Qingdao phenomenon lauded in case study
Qingdao in Shandong province experienced a remarkable 31-fold increase in the number of international trademark applications filed under the Madrid System in 2011-15, a recently released report has found. The city was chosen as a case study for its standing as the nation's emerging brand capital and a national base for innovative high-tech marine and port industries, according to the report.
The report, Trademark Protection through the Madrid System to Promote Economic Development, was unveiled by the World Intellectual Property Organization and the Qingdao government. It is based on their joint case study on the use of the international trademark system in China to promote local economic development, beginning in July 2011.
The Madrid System is a convenient and cost-effective solution for registering and managing trademarks worldwide. It allows applicants to file one set of documents and pay one fee to apply for protection in more than 100 countries and regions worldwide.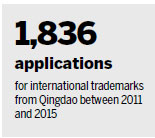 Between 2011 and 2015, organizations and individuals in Qingdao filed 1,836 international trademark applications under the Madrid System, rising from 59 filings between 2006 and 2010.
In 2015 alone, more than 800 applications were filed in the city, accounting for about 88 percent of those filed across the province and nearly 35 percent of the national total.
Sun Haisheng, head of the Qingdao administration for industry and commerce, said that the city saw 567 international trademark applications last year, and now has 125,000 valid domestic trademarks.
This notable increase in applications under the Madrid System, alongside parallel growth in economic development, is dubbed the "Qingdao Phenomenon" in the report.
Matthew Forno, senior counselor of the information and promotion division at WIPO's Madrid Registry, said Chinese companies have become a major source of growth in international patent and trademark filings over the past 10 years.
Home to many internationally renowned brands, such as Tsingtao beer and Haier household appliances, Qingdao has witnessed its local companies using the Madrid System in their overseas businesses, Forno said.
In the early stages of the study, researchers used surveys, questionnaires and in-depth interviews to gather data from more than 2,200 companies and representatives.
The data revealed there were previously three primary roadblocks to international trademark registration in Qingdao: a lack of awareness of the importance of trademarks in international commerce, a lack of government support for international trademark registration and a lack of expertise among trademark agencies.
The report noted that years ago, only some large enterprises with well-known brands, such as Haier, Hisense and Tsingtao, had "a solid understanding of the importance of international trademarks". It also noted that the local government offered few policies to encourage international trademark applications.
However, a series of measures were implemented between 2011 and 2015, leading to record year-on-year growth in international trademark applications.
These efforts included active and ongoing guidance from WIPO, improving trademark awareness among entrepreneurs, nurturing proprietary brands, motivating enterprises to register trademarks internationally, and improving the quality and capacity of trademark agencies, the report said.
"Results from the Qingdao case study demonstrate that the implementation of a targeted promotional, educational, and incentive-based program gave rise to considerable growth in international trademark applications under the Madrid System, alongside parallel economic expansion," the report concluded.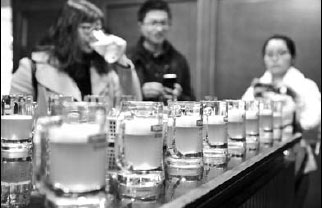 A visitor tastes Tsingtao beer at the Tsingtao Brewery Museum.Provided To China Daily
(China Daily 09/14/2017 page17)
Today's Top News
Editor's picks
Most Viewed