IP scene
Beijing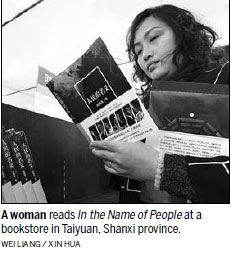 In the Name of People book sees international success
The anti-corruption-themed novel In the Name of People has been exported to 12 countries and regions in 12 languages, becoming one of the most successful Chinese books in the international market. The copyright owner, Beijing Publishing Group, is currently negotiating the copyright license for the book's English-language version. The novel has been adapted to a namesake TV drama, which was shown earlier this year and hit a record high audience rate.
Xinhua News Agency
China leads applications for graphene-related technology
China has topped the world for the number of graphene-related patent applications, followed by South Korea, the United States, Japan and Germany, according to Global Science and Technology Trends Report: Graphene Research and Development, unveiled by the Chinese Academy of Sciences and US-based Chemical Abstracts Service. The top five countries accounted for more than 90 percent of the total global patents in the sector.
Xinhua News Agency
Zhejiang
Specialized tribunals launched in Hangzhou and Ningbo
Specialized intellectual property tribunals were established in Hangzhou and Ningbo last week. They are responsible for major IP lawsuits in the province, covering patents, trademarks, technical secrets, software, new plant breeds, integrated circuit designs and unfair competition. Over the past five years, courts across the province received 8,364 patent lawsuits, accounting for one-sixth of the national total.
Thepaper.cn
Guangdong
Cities team up to enforce rights in e-commerce sector
Nineteen Chinese cities have made a declaration of joint enforcement concerning intellectual property rights in the e-commerce sector during the Guangdong Intellectual Property Trade Expo 2017, held in the provincial capital Guangzhou at the end of August. The cities said they will increase exchanges and cooperation in fighting piracy and infringements, and will share enforcement resources and information to create a more innovation-friendly environment.
Ycwb.com
Guangxi
Malicious trademarks database to be established
The State Administration for Industry and Commerce plans to create a database of suspects for malicious trademark registration, said Cui Shoudong, deputy head of the Trademark Office at SAIC, during the China Trademark Festival in Guilin earlier this month. The office will also initiate a nationwide campaign to fight trademark infringements within the year and explore the feasibility of turning it into a regular undertaking in the future, Cui said.
Legal Daily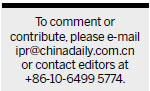 (China Daily 09/14/2017 page17)
Today's Top News
Editor's picks
Most Viewed