Weakened Irma lashes Florida with wind, rain
Storm has killed at least 28 as it raged through the Caribbean
TAMPA, Florida - A massive but weakened Hurricane Irma zeroed in on the Tampa Bay region on Monday after hammering much of Florida with roof-ripping winds, gushing floodwaters and widespread power outages.
Irma continued its slog north along Florida's western coast having blazed a path of unknown destruction. With communication cut to some of the Florida Keys, where Irma made landfall on Sunday, and rough conditions persisting across the peninsula, many held their breath for what daylight might reveal.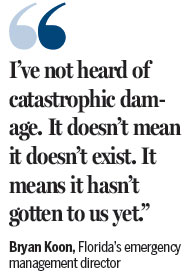 The monster storm measured more than 640 kilometers wide and its winds of up to 210 km/h sucked the ocean water out of bays, swamped much of downtown Miami and toppled at least three constructions cranes two over downtown Miami and one in Fort Lauderdale.
Irma hit just days after the Houston area was deluged by unprecedented flooding from Hurricane Harvey, which dumped more than 1.2 meters of rain in parts of Texas.
More than 3.3 million homes and businesses across the state lost power, and utility officials said it will take weeks to restore electricity to everyone.
Irma's center was about 40 km northeast of the heavily populated Tampa-St. Petersburg area early on Monday, though in a much-weakened state. While it arrived in Florida a Category 4 hurricane, it was down to a Category 1 with winds of 135 km/h.
Continued weakening was forecast and the US National Hurricane Center said Irma was expected to become a tropical storm over northern Florida or southern Georgia later in the day on Monday.
Meanwhile, more than 160,000 people waited in shelters statewide.
There were no immediate reports of deaths in Florida. The storm killed at least 28 people as it raged westward through the Caribbean en route to Florida, devastating several small islands, and grazing Puerto Rico, the Dominican Republic and Haiti before pummeling parts of Cuba's north coast with 11-meter waves.
In the Cuban capital of Havana, home to about 2 million residents, central neighborhoods along the coast between the Almendares River and the harbor suffered the brunt of the flooding, with seawater penetrating as much as a 500-meter inland in places.
In one of the largest US evacuations, nearly 7 million people in the Southeast were warned to seek shelter elsewhere, including 6.4 million in Florida alone. Upon leaving Florida, a weakened Irma is expected to push into Georgia, Alabama, Mississippi, Tennessee and beyond. A tropical storm warning was issued for the first time ever in Atlanta, where many schools canceled classes because of the storm.
Bryan Koon, Florida's emergency management director, said on Sunday that authorities had only scattered information about the storm's toll.
"I've not heard of catastrophic damage. It doesn't mean it doesn't exist. It means it hasn't gotten to us yet," Koon said.
President Donald Trump approved a disaster declaration for Florida, opening the way for federal aid.
AP - AFP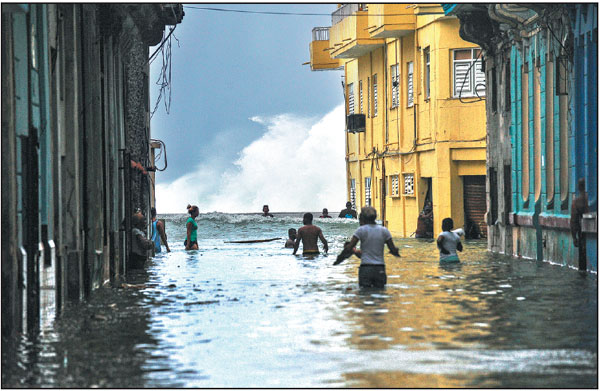 Cubans wade through a flooded street in Havana on Sunday as deadly Hurricane Irma battered central Cuba, knocking down power lines, uprooting trees and ripping the roofs off homes as it headed toward Florida.Yamil Lage / Agence France-presse
(China Daily 09/12/2017 page12)
Today's Top News
Editor's picks
Most Viewed