Mexican quake death toll rises
MEXICO CITY - The death toll from the massive earthquake that struck Mexico on Thursday night has risen to at least 90 after emergency services in the southern state of Oaxaca said late on Saturday there had been 71 confirmed fatalities in the state alone.
"It's 71 (dead). Just for Oaxaca," said Jesus Gonzalez, a spokesman for the state civil protection authority.
At least 15 people died in the neighboring state of Chiapas, according to local authorities, while another four deaths have also been confirmed in the state of Tabasco to the north.
The 8.1 magnitude quake that struck off the coast of Chiapas on Thursday was stronger than a devastating 1985 temblor that flattened swathes of Mexico City and killed thousands.
Relief efforts in the south continued through Saturday, with many of the people worst affected still wary of returning indoors to weakened buildings, fearing they could be brought down by ongoing aftershocks.
Government cargo planes delivered much-needed supplies and the military began distributing boxes of food, though many residents of this city in a region of Oaxaca state known as the Isthmus complained that progress was slow and they hadn't yet received assistance.
Teams of soldiers and federal police armed with shovels and sledgehammers fanned out across neighborhoods to assist in demolition of damaged buildings. Dump trucks choked some narrow streets as they began hauling away the many tons of rubble.
Maria de Lourdes Quintana Lopez said she couldn't wait for the government's assistance as she oversaw the demolition of her family candy business' warehouse.
"We have to work so that we're not overcome with sadness," Quintana said. "We're not going to wait for the government to do what it has to do."
Reuters - AP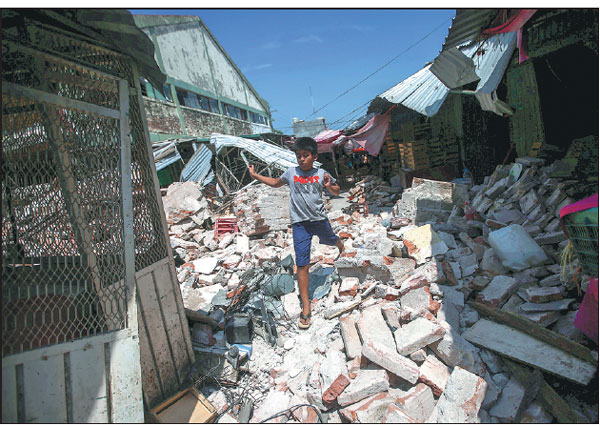 A boy walks on debris in the city of Juchitan on Saturday after an earthquake struck on the southern coast of Mexico late on Thursday.Edgard Garrido / Reuters
(China Daily 09/11/2017 page12)
Today's Top News
Editor's picks
Most Viewed