Hurricane Irma bearing down on Florida Keys
Tens of thousands of people huddling in shelters watch for updates on storm
ST. PETERSBURG, Florida - Hurricane Irma regained strength as it closed in on the Florida Keys early on Sunday and forecasters monitored a crucial shift in its trajectory - just a few more miles to the west - that could keep its ferocious eye off the southwest Florida coast and over warm Gulf water.
The hurricane re-strengthened to Category 4 status with maximum sustained winds near 210 km/h. The US National Hurricane Center said Irma was expected to weaken but would remain a powerful storm as it moved through the Florida Keys and near the state's west coast.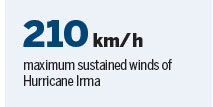 As of 5 am on Sunday, the hurricane was centered about 65 kilometers south-southeast of Key West, Florida, and had sped up slightly, moving northwest at 13 km/h.
Tens of thousands of people huddling in shelters watched for updates as the storm swung to the west, now potentially sparing Tampa as well as Miami the catastrophic head-on blow forecasters had been warning about for days.
But those few kilometers meant St. Petersburg could get a direct hit, rather than its more populous twin across Tampa Bay. Neither city has suffered a major hurricane in nearly a century. Access to all of Pinellas County's barrier islands, including the popular spring break destination of Clearwater Beach, was shut off.
The leading edge of the immense storm bent palm trees and spit rain across South Florida, knocking out power to more than 170,000 homes and businesses, as the eye approached Key West.
As the hurricane's eye approached the Florida Keys early on Sunday, 60-year-old Carol Walterson Stroud and her family were huddled in a third floor apartment at a senior center in Key West.
"We are good so far," she said in a text message just before 5:30 am. "It's blowing hard."
Stroud was with her husband, Tim Stroud, and granddaughter, Sierra Costello. Their dog Rocky was also riding out the storm.
Stroud said she planned to step outside once the eye of the hurricane passed over. She said she has stood in the eye of a hurricane before and it's "total peace and quiet."
Florida Governor Rick Scott had warned residents in the state's evacuation zones on Saturday that "this is your last chance to make a good decision". About 6.4 million people were told to flee.
But because the storm is 560 to 640 kilometers wide, the entire Florida peninsula was exposed. Forecasters said the greater Miami area of 6 million people could still get life-threatening hurricane winds.
Irma was at one time the most powerful hurricane ever recorded in the open Atlantic with a peak wind speed of 300 km/h last week. It left more than 20 people dead across the Caribbean and as it moved north over the Gulf of Mexico's bathtub-warm water, it was expected to regain strength.
Meteorologists predicted Irma would plow into the Tampa Bay area on Monday morning. The area has not been struck by a major hurricane since 1921, when its population was about 10,000, National Hurricane Center spokesman Dennis Feltgen said. Now around 3 million people live there.
The latest course also still threatens Naples' mansion and yacht-lined canals, Sun City Center's retirement homes, and Sanibel Island's shell-filled beaches.
Irma's course change caught many off guard and triggered a major round of last-minute evacuations in the Tampa area. Many businesses had yet to protect windows with plywood or hurricane shutters. Some locals grumbled about the forecast, even though Florida's west coast had long been included in the zone of probability.
"For five days, we were told it was going to be on the east coast, and then 24 hours before it hits, we're now told it's coming up the west coast," said Jeff Beerbohm, a 52-year-old entrepreneur in St. Petersburg.
Associated Press
(China Daily 09/11/2017 page12)
Today's Top News
Editor's picks
Most Viewed