JC Group's projects help to make local governments' plans become reality
JC Group, an urban development company headquartered in Hangzhou, Zhejiang province, and Suzhou, Jiangsu province, has signed 58 projects across China to promote eco-friendly urbanization.
The company secured orders worth more than 570 billion yuan ($87.23 billion) from various local governments for projects related to "distinctive towns", which are generally tourism areas that focus on specific themes.
Wei Jie, chairman of JC Group, said that distinctive towns require pillar industries and a complete supply chain to promote their long-term and sustainable development.
Among the agreed projects on JC's books is a crawfish-themed complex in Xuyi county under the administration of Huaian, Jiangsu province.
JC Group signed a 7 billion yuan agreement with the Xuyi government in May to design, build and operate the crawfish-themed town, which will include a research and development center, a market, businesses incubators, and a vocational and technical educational center.
Xuyi county hosts an annual international summer crawfish festival, where it is a well-known specialty.
The new project will make use of Xuyi's and JC's advantages to develop a crawfish supply chain, ranging from production and transportation, to processing and promotion, Wei said at the opening ceremony of this year's crawfish festival in June.
The themes of JC's investment projects not only involve cuisine, but also culture. Last year, the company signed a deal to build a cultural tourism park in Miluo, Hunan province.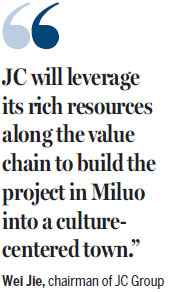 With a 5 billion yuan investment, the project will focus on poetry culture and modern industries, aimed at becoming an industrial cluster for riverside cultures.
As the origin of the Dragon Boat Festival, Miluo boasts rich natural resources and a unique culture, which partially explains why JC agreed to work with the city as an investment destination.
"JC will leverage its rich resources along the value chain to build the project in Miluo into a culture-centered town," Wei said. "I hope the project will spur the city's sustainable growth and promote the transformation and upgrade of the entire local economy."
Another JC project focusing on technology is Wuxi Taihu Mermaid Town, on which construction began in Wuxi, Jiangsu province, in May.
Near Taihu Lake, one of China's five largest fresh water lakes, the project will feature online VR gaming experiences, a digital entertainment industrial park and comprehensive commercial cultural areas.
As technology interaction is emerging as a new trend in tourism, advanced technologies - including VR technology, a high-altitude cinema and high-tech shows - will be brought to the town, to build a large theme park that will put an emphasis on technology, visitor participation and entertainment.
The mermaid town is expected to receive 8 million tourists annually when it is completed, according to the company.
caoyingying@chinadaily.com.cn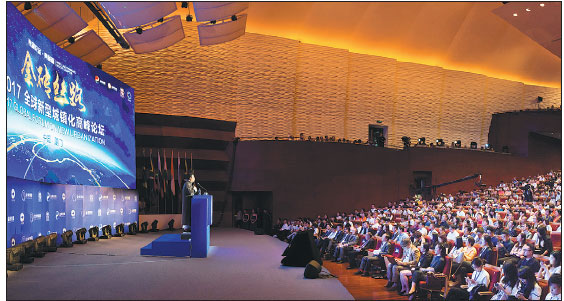 Wei Jie, chairman of JC Group, delivers a keynote speech at the 2017 Global Forum on New Urbanization in Xiamen, Fujian province, on Sept 8.
(China Daily 09/11/2017 page7)
Today's Top News
Editor's picks
Most Viewed