Auto financing sector to hit 2 trillion yuan by 2020, doubling 2016
The country's car financing market could more than double in the next three years, on the back of a push by dealers to reach sales targets and an anticipated surge in the finance leasing sector, according to estimates from the China Automobile Dealers Association.
The association predicts the overall auto financing market will reach 2 trillion yuan ($307.7 billion) by 2020 in China, 2.5 times the 800 billion yuan scale reported at the end of 2016. It foresees about half of new car sales involving some form of financing.
The world's largest auto market is expected to maintain a smaller, one-digit growth rate until 2020, after reaching a record high of 28 million sales in 2016, representing 13.7 percent year-on-year growth, according to CADA.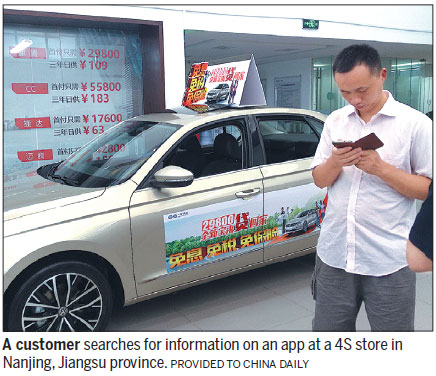 Auto financing has significantly fueled the market's development to an extent that cannot be overlooked, according to Shen Jinjun, president of the China Automobile Dealers Association.
He said: "The market is vast, with massive potential for financing companies and banks, as long as they are capable of customizing excellent services for customers."
Currently, the majority of financing transactions are made at the point of vehicle ownership transfer.
"Many automakers are offering car financing services as a tool to leverage new car sales, as a response to pressure to meet high sales volume targets," said Chen Fengguo, deputy general manager of Dongfeng Nissan Auto Finance.
He noted that: "When an organization aims to grow and attract more customers, it might ease risk controls and accept the possibility of taking on bad debt and losing money."
Jiang Dong, chief operating officer of Yixin Capital, said: "About 80 to 90 percent of the auto financing market value relies on car sales. The current market situation leaves much room for innovative financing products."
In comparison, in the United States only 40 percent of the auto financing market's value is generated from transferring vehicle ownership. About 30 percent is generated from finance leasing, where users rent the vehicle from the company, which legally owns it.
Zhu Guixi, deputy general manager of GAC Group's finance leasing unit, said: "The use of leasing services is very rare in China. Financial leasing is the third stage of development in the car financing market. It is largely provided by leasing companies and small-loan companies."
The first stage of the auto financing business is banks providing loans to customers buying new cars, with automakers' financing arms being the second stage, Zhu explained.
He added optimistically: "I expect the finance leasing market to at least double in size by no later than 2025, and the entire auto finance market to surge eightfold from its current value."
(China Daily 09/11/2017 page18)
Today's Top News
Editor's picks
Most Viewed