The life of Nuo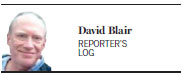 Blue skies and green hills were the first things your correspondent saw when approaching Shiyou village in Nanfeng county of Fuzhou in eastern Jiangxi province. Then, the small sweet mandarin oranges drew my attention, though, unfortunately, they were not quite ripe in late August. There were so many happy children, gathering to see what was happening.
I could not have anticipated the intensity of the traditional Nuo dancing, gathered in a small, ancient Taoist temple in the center of Shiyou.
The ceremony began with the drumming of 78-year-old Luo Huiwu. No video can show what it's like to be immersed in the reverberations from the drum and cymbal. Then, the masked dancers charge through the door. Each mask is a well-known character to the village and each dance tells a story. Nuo dancing is as much drama as pure dance.
Historians say that the Nuo ceremony first arose in the very ancient Shang Dynasty (16th-11th centuries BC) and rose to a prominent role in Chinese culture during the Zhou Dynasty (11th century - 256 BC).
Originally, Nuo developed as a religious ritual to scare away evil spirits and promote good harvests, but now it is a cultural heritage and ceremony found throughout many mountainous areas of China.
Nuo dancing has been presented in many cities throughout China and the world. The government encourages its presentation and development. For example, Luo Huiwu receives a small stipend of 9,000 yuan ($1,365) a year for his work in preserving the art. In 2006, the State Council, China's cabinet, approved Nanfeng Nuo dancing as a national intangible cultural heritage.
In the nearby city of Nanfeng, we visited the workshop of Zhang Yixiang, a master sculptor who has been carving Nuo masks since 1988. With amazing skill, he swiftly carves a face into a block of camphor wood. He makes masks for more than 20 villages in Jiangxi and nearby Fujian province, and has carved thousands throughout his long career.
Other fascinating places can be found in a culture center in Nanfeng. Sculptor Wang Xici carves unique items according to the natural flow of the pieces of wood or rock. Xie Zhenhua makes gorgeous celadon porcelain, at reasonable prices.
Zou Lanying and her son Hu Rihui display a truly stunning collection of porcelain from the Song Dynasty (960-1279) that any museum would be proud to own.
Xiao Yi, secretary of the Party committee of Fuzhou, summed up the critical importance of these cultural treasures: "Culture is the root of Fuzhou. In the new round of green economic development, building an ecological civilization, Fuzhou's good ecology, as well as its deep history and culture are great advantages."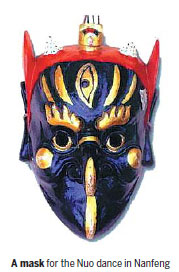 (China Daily 09/08/2017 page29)
Today's Top News
Editor's picks
Most Viewed