Innovation is snap for photoelectric industrial park
Weifang Photoelectric Industrial Park is taking measures to improve its innovation system for services - aiming to better support the technological development of businesses.
Located in the Weifang Hitech Industrial Development Zone, the park has developed many service platforms, including a semiconductor lighting products testing center, to give all kinds of support to businesses.
The previous semiconductor lighting products testing center was good, said Wu Lin, a staff member of the quality inspection department at Weifang Advanced Optronics Devices Co Ltd.
"However, it cannot conduct all the types of tests necessary to serve the changing market demand," Wu added.
"The expanded center and services are very convenient, because we do not need to take samples to other cities."
The development zone has made great efforts in promoting the construction of support platforms, improving services and upgrading financial services.
The launch of the Ministry of Industry and Information Technology's Fifth Electronics Research Institute in the zone marked the debut of a city-institute cooperation model.
The test center has served 210 companies since its establishment in 2011, including 100 companies based in Weifang.
Estimates are that it has saved the businesses nearly 60 million yuan ($9.03 million) in research and development costs over the past six years. The local authority said it effectively helps companies shorten the timespan between R&D and production.
The power equipment manufacturing industry is one of the well-developed industries in the zone, which has attracted related businesses and built up well-equipped manufacturing facilities.
The industrial park partnered with the China Academy of Machinery Science and Technology to build the Shandong 3-D Printing and Advanced Manufacturing Service Platform in 2015. The platform is playing a key role in improving the environment for industry development, providing technological solutions to businesses.
The first industrial-level light-curing 3-D printer, with its own intellectual property rights, rolled off the production line in Weifang recently. The printer was independently developed by Maglayer, a smart technology company based in Shandong.
Looking ahead, the operators of Weifang Photoelectric Industrial Park said they will continue to boost the development of platforms, to improve the park's service capabilities.
"We will deepen cooperation with leading research institutes, such as the China Academy of Sciences, to develop an innovation platform that has design and R&D functions, as well as testing, verification and quality control functions," said Song Zhiming, director of the park's innovation and entrepreneurship service center.
Zhuang Jian contributed to this story.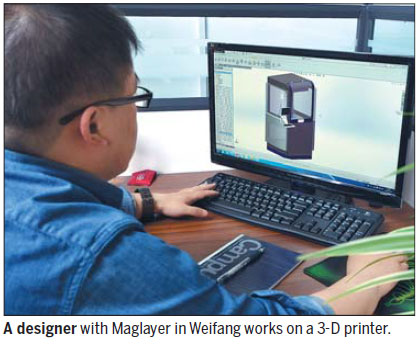 (China Daily 09/04/2017 page24)
Today's Top News
Editor's picks
Most Viewed