Dough makes for proud tradition, but not money
Zhao Riwen, a dough figurine-making artist in the Weifang Hi-tech Industrial Development Zone, is ready to inherit the tradition and give it new life.
Making dough figurines is a traditional Chinese craft, which uses flour and water as its main materials. It is believed the craft has a history going back more than 1,000 years and can be traced back to the Han Dynasty (206 BC-220).
Zhao was recognized as an inheritor of Weifang dough figurines, which were named a city-level intangible cultural heritage item, in 2015.
His works have been collected by Prince Gong's Mansion in Beijing and the Shandong Intangible Heritage Research Center.
Zhao said he liked to make fl our pastry such as fish, flowers and peaches as a boy, learning the skill from his grandmother. In the process of learning Zhao had found that the dough figurines, mainly made with water and fl our, were difficult to be preserve in the natural environment.
He was determined to develop a unique preservative method, to extend the lifecycle of his dough figurines.
"On the other hand, the products need to be environmentally friendly, as kids will be handling them," Zhao said.
"I have designed a set of equipment which can be used to produce various types of products for dough fi gurines, and to teach children."
So far, he has taught more than 3,000 students the traditional art, who have happily learned how to make dough figurines. Zhao said it is his hope that they will help to preserve this traditional art.
Although Zhao has accumulated rich experience in making dough figurines, he has not made much money from this craft.
"I'm not good at selling products. Sometimes I feel I am at a disadvantage as an artist," Zhao said.
Fuhua community in the high-tech zone has provided strong support for Zhao.
Zhao said he hopes to introduce innovation in dough figurine making, to bring more vitality to its traditions.
Liu Jing contributed to this story.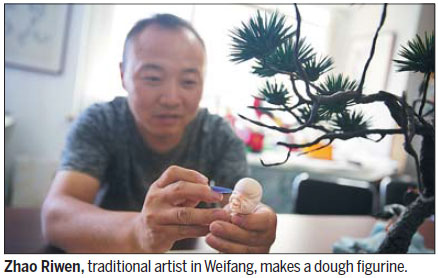 (China Daily 09/04/2017 page24)
Today's Top News
Editor's picks
Most Viewed