Mobike on move with Thai rollout
BANGKOK - China's top bike-sharing company Mobike has announced that it is entering the Thai market.
The move makes the company the third bike-sharing service provider in Thailand after Singaporean oBike and China's ofo.
Mobike signed MOUs with Thailand's telecom company Advanced Info Service, Central Pattana Group and Kasetsart (Agriculture) University to "jointly deliver smart, sustainable mobility solutions to Thailand's residents and visitors".
Mobike will start operating in Thailand at Bangkok's Kasetsart University, home to some 70,000 students.
"Mobikes are equipped with a series of proprietary high-tech features that benefit both users and partner cities. Every Mobike is equipped with unique smart-lock technology and built-in GPS connected via the Mobike IoT network, which no other bike-sharing company provides," Mobike cofounder and CTO Joe Xia said during a news conference.
Mobike will charge 10 Thai baht for 30 minutes, while AIS will collaborate with Mobike by providing their mPay as an e-payment gateway, according to Suvit Arayavilaipong, senior vice-president for product management of AIS.
Xia said Mobike will soon be found in other locations in Bangkok and other cities across the kingdom after the pilot scheme, but there is no clear schedule as yet.
There are not many bicycle lanes and bicycle parking lots in Bangkok, and people living in the Southeast Asian metropolis rarely use bicycles.
Xia, however, is confident that Mobike will work in the city where people tend to ride motorcycles, and Mobike's success in Singapore and Manchester in Britain will help them to develop in Thailand.
He pointed out that after bike-sharing entered Singapore, a city which also has a similar shortage of bicycle lanes, the government canceled its plan to develop a public bicycle system and is now planning more bicycle lanes and bicycle parking lots.
Nattakit Tangpoonsinthana, executive vice-president of Marketing of Central Pattana, asked the Bangkok government to support this environmental-friendly way of commuting as Mobike will help make Bangkok a greener city and further enhance its reputation as a world-class tourist destination.
"We want to revive bicycle riding in our campus," Kasetsart University's Acting President Chongrak Wachrinrat said during the news conference, adding that introducing the Chinese startup may also inspire their students with innovation.
Xinhua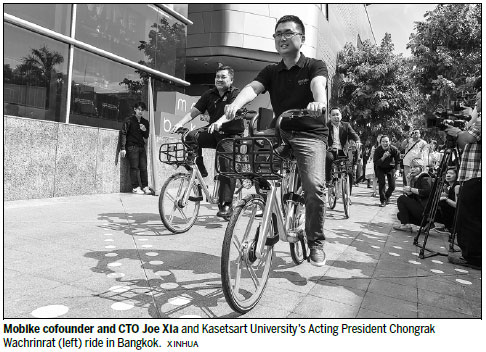 (China Daily 09/01/2017 page11)
Today's Top News
Editor's picks
Most Viewed