NAFTA trio get down to business after tough talk
Countries begin negotiations as Trump faces pressure to keep deal
MEXICO CITY - After days of threats from US President Donald Trump to scrap the North American Free Trade Agreement, negotiators get down to business on Friday at the second round of talks aimed at revamping it.
Having set an ambitious "accelerated" calendar during the first round - held in Washington from Aug 16 to 20 - United States, Mexican and Canadian negotiators will now dive into the nitty-gritty details at five days of talks in Mexico City.
Trump has dialed up his anti-NAFTA rhetoric in the buildup to the second round, saying Mexico was "being difficult" and that the US would "end up probably terminating" the 23-year-old trade deal he accuses of shipping US jobs south of the border.
However, Trump's power appears to be waning in Mexico, where his tweets were once capable of sending the peso into a tailspin.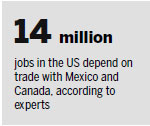 "The leverage and power that the US has in the context of NAFTA is perhaps a little bit less than the Trump administration thought it had," said Jean-Francois Perrault, chief economist at Scotiabank.
Mexico dismissed Trump's threat to scrap NAFTA as posturing - his "peculiar" negotiating style, Foreign Minister Luis Videgaray called it. And the government answered a series of vitriolic Trump tweets with an undaunted statement saying it would not renegotiate the deal over social media.
Most experts now say NAFTA is likely to survive with moderate changes.
"Base case is that all parties will be able to find common ground and small changes to the agreement are unlikely to affect trading relations with-in the bloc," said Neil Shearing, an economist at London-based consulting firm Capital Economics.
Trump may ultimately have little room to maneuver.
About 14 million US jobs depend on trade with Mexico and Canada, according to the US Chamber of Commerce. And the president faces strong pressure from US industry to keep NAFTA in place.
Mexico's economy is chugging along despite Trump's threats, after wobbling in the wake of his election.
It grew an annualized 3 percent in the second quarter, and the central bank nudged its 2017 growth forecast up on Wednesday, to 2 to 2.5 percent.
The bank cited "a reduced probability" of major disruptions in the relationship with the US.
Still, the Mexican government has come up with a Plan B in case the talks fail. It says it includes diversifying the country's trading partners to reduce dependence on the US, where Mexico currently sends 80 percent of its exports.
"He could still surprise us. Trump does have the executive authority" to pull out of the deal, said Alejandro Luna, a partner at Mexican business law firm Santamarina & Steta.
There are numerous touchy subjects on the table, including US demands to scrap NAFTA's dispute resolution mechanism and change the rules of origin for the auto sector to require a certain percentage of cars' components to be built in the US in order to remain duty-free.
Trump is also determined to slash the US' $64 billion trade deficit with Mexico - though economists say it is a structural issue that cannot be changed with trade talks.
Agence France-presse
(China Daily 09/01/2017 page11)
Today's Top News
Editor's picks
Most Viewed