Millions pour into path of total eclipse
CHARLESTON, South Carolina - On Monday, when a total solar eclipse sweeps across the United States for the first time in 99 years, people gathering in Charleston will be the last on the continent to experience it.
Scheduled to hit the US West Coast around 10 am Pacific time, there will be the most powerful "path of totality" going straight through Oregon, as it will last 2.5 minutes when the moon completely covers the sun.
They are ready.
Historic Charleston, with its cobblestone streets and elegant antebellum mansions, was bustling on Sunday in full pre-eclipse mode.
Its restaurants were packed and downtown parking was at a premium as excited locals and tourists strolled cheerfully along the seafront Battery promenade.
"It has been crazy since Friday night," said bar owner Chaz Wendell.
"This is probably going to be our busiest weekend all year."
Weather predictions for Monday were iffy - with clouds and scattered thunderstorms predicted through the hours when the eclipse is due, from the moment when the moon first obscures a small arc of the sun, to totality, and through the end of the whole cosmic viewing experience.
For locals, and for those who have come from far away, it is a big deal.
"We're very excited," said Brandy Mullins, a 38-year-old stay-at-home mother who moved to Charleston six weeks ago with her family.
She and her three children all have solar glasses and are planning to watch the eclipse from an open area - weather permitting.
"It's not looking very good," she said of the weather forecasts, "but it's OK, we still get to experience it and see the darkness."
Nick Willder, 59, and his wife, Sarah Boylan, 60, of Nottingham, England, had planned their two-week vacation through the southern US to end in Charleston in time for the eclipse.
It will be their third try to see a total eclipse: Earlier attempts in England and China, Willder said, were both rained out.
However, Thomas Hwang, a retina expert at Oregon Health & Science University Casey Eye Institute, has a critical warning for spectators out to see a total solar eclipse on Monday.
"If you look directly at the eclipse, it can burn your retina in mere seconds and can cause permanent damage," said Hwang, an associate professor of ophthalmology in the OHSU School of Medicine.
The damage to the eye is called solar retinopathy and it can give people a permanent blind spot; the longer the exposure, the hotter the retina gets and the more likely the damage.
"There's a simple solution: Wear the special solar eclipse safety viewing glasses to protect your eyes or use a pinhole projector," he suggested, adding that "even with the special glasses, don't look at the eclipse for a long time. Sunglasses won't cut it either - they are not nearly good enough filters."
Afp - Xinhua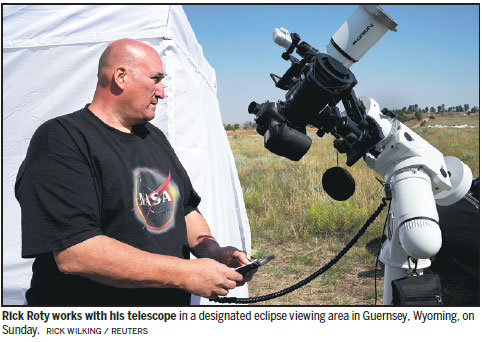 (China Daily 08/22/2017 page12)
Today's Top News
Editor's picks
Most Viewed