Spanish police hunt for suspected Barcelona terror attack van driver
Investigation by the authorities also focusing on a missing imam
BARCELONA, Spain - Spanish police put up scores of roadblocks across the northeast as the manhunt continued on Sunday for the suspected driver of the van that plowed into pedestrians in Barcelona.
Police in Catalonia are searching for Younes Abouyaaquoub, a 22-year-old Moroccan suspected of carrying out the attack Thursday in Barcelona that left 13 dead and over 120 people wounded. Another attack hours later killed one person and injured others in seaside town of Cambrils.
Authorities said the two attacks were the work of a large terrorist cell that had been plotting for a long time from a house they took over in Alcanar, a quiet town down the coast from Barcelona. The Islamic State group has claimed responsibility for both attacks.
The investigation is also focusing on a missing imam who police think could have died in a massive house explosion on Wednesday in Alcanar. Police believe imam Abdelbaki Es Satty radicalized the young men in the extremist cell, which may have accidently blown up the house in Alcanar with the explosive material it was collecting. Es Satty in June abruptly quit working at a mosque in Ripoll and has not been seen since.
His former mosque denounced the deadly attacks and weeping relatives marched into a Ripoll square on Saturday, tearfully denying any knowledge of the radical plans of their sons and brothers. Abouyaaquoub's mother said his younger brother Hussein has also disappeared, as has the younger brother of one of five radicals slain on Friday by police during the Cambrils attack.
On Sunday, King Felipe VI, Queen Letizia, Spanish Prime Minister Mariano Rajoy and other officials attended a solemn Mass at Barcelona's Sagrada Familia basilica for the victims of the attacks. The archbishop of Barcelona, Cardinal Joan Josep Omella, said the presence of so many people was a "beautiful mosaic" of unity and urged all to work toward a common objective of "peace, respect, fraternal coexistence and love".
Everyone so far known in the cell grew up in Ripoll, a town in the Catalan foothills 100 kilometers north of Barcelona. Spanish police searched nine homes in Ripoll, including Es Satty's, and set up roadblocks. French police carried out extra border checks on people coming in from Spain.
Neighbors, family and the mayor of Ripoll said they were shocked by news of the alleged involvement of the young men, whom all described as integrated Spanish and Catalan speakers.
Halima Hychami, the weeping mother of Mohamed Hychami, an attacker believed to have been killed by police, said he told her he was leaving on vacation and would return in about a week. His younger brother, Omar, left mid-afternoon on Thursday and has not been heard from since.
'Normal boys'
"We found out by watching TV, same as all of you. They never talked about the imam. They were normal boys. They took care of me, booked my flight when I went on vacation. They all had jobs. They didn't steal. Never had a problem with me or anybody else. I can't understand it," she said.
Even with Abouyaaquoub and others at large, Spanish Interior Minister Juan Ignacio Zoido declared the cell "broken" on Saturday. In addition to the five killed by police, four were in custody and others were killed in a house explosion Wednesday. He said there was no new imminent threat of attack.
Police conducted controlled explosions on Saturday in Alcanar, south of Barcelona.
Initially, only one person was believed killed in the Wednesday blast that destroyed a house in Alcanar. But officials said DNA tests were underway to determine if human remains found Friday were from a second victim. A police official, speaking on condition of anonymity to discuss the ongoing searches, said investigators believed they may belong to Es Satty.
The official said investigators also discovered ingredients of the explosive TATP, used by IS in attacks in Paris and Brussels, as well as multiple butane tanks.
Associated Press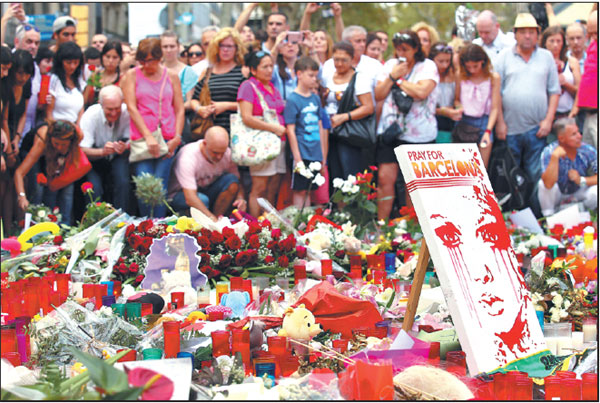 People stand at an impromptu memorial where a van crashed into pedestrians at Las Ramblas in Barcelona, Spain, on Saturday.Reuters
(China Daily 08/21/2017 page12)
Today's Top News
Editor's picks
Most Viewed