Tibetan-language films light up China's big screen
The Tibetan-language film Soul on a String will be released on Aug 18, two months after the debut of another Tibetan-language hit film. With box office sales nearing 100 million yuan ($15 million) since its release on June 20, Path of The Soul, directed by Zhang Yang, traces the story of a Tibetan family's pilgrimage from Chamdo to Lhasa and the holy Mount Kangrinboqe.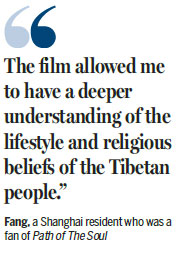 Also directed by Zhang, Soul on a String tells the story of a Tibetan wanderer from a distant time who discovers a sacred stone, and the quest to return it to its rightful home on a holy mountain.
Film commentator Lu Jinbo said the film is a thought-provoking philosophical work and a thorough demonstration of Tibetan culture.

Today's Top News
Editor's picks
Most Viewed