Marriott eyes China's online travel market
Hotel group hopes to engage internet giant's 500 million customer base via JV
Hotel group Marriott International and e-commerce giant Alibaba announced a wide-ranging partnership in the form of a new joint venture on Monday in Shanghai. Following the announcement, Arne Sorenson, president and CEO of Marriott International, made no bones about his ambition to tap into China's hundreds of millions of middle-class travelers, who have developed an insatiable desire to explore their home country and the world.
But essentially, as the helmsman of the world's largest hotel company, with a portfolio of more than 30 brands, Sorenson noted that it is the luxury and lifestyle segment that will "capture the imagination" of Chinese travelers.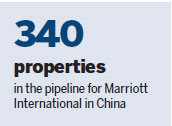 This will drive the most significant growth of the market, he said to China Daily on Tuesday in an exclusive interview following the announcement of the partnership.
"To talk about this joint venture, all we need to say is two words, 'Marriott' and 'Alibaba'," said Sorenson, referring to the partnership that the two sides have been working on for approximately one year.
The plans base the joint venture in Hangzhou, Zhejiang province, where Alibaba is headquartered. The aim is to leverage Alibaba's digital expertise and its 500 million active customer base, and at the same time to bring exclusive benefits that were previously only available for the hospitality group's reward program members.

The joint venture will manage Marriott's storefront on Fliggy, Alibaba's travel service platform, as well as the hotel chain's Chinese-language digital channels, including Marriott, Starwoodhotels and other corresponding mobile apps.
According to a joint statement by the two parties, the venture will "elevate and redefine the travel experiences" of millions of Chinese travelers by offering personalized travel packages, among other benefits.
Sorenson explained that he knew Jack Ma before the partnership talks kicked off a year ago, but that it was the group's acquisition of Starwood that got talks about a partnership underway. "When we announced our acquisition of Starwood, I think Alibaba saw Marriott as a more desirable partner."
"I am convinced that we would not have this deal had we not acquired Starwood, since our big platform and our strength in the luxury and lifestyle segments are very aspirational for Alibaba," he said. "They are attractive to us because of their China expertise and the size of their consumer base."
Statistics from Alibaba showed that around 500 million customers have placed at least one order on its platform over the past 12 months.
Of them, 15 million are classified as "super members", who have not only shopped frequently, but have also been active in terms of reviewing products and signing up for promotions.
"Initially we will focus on the top 50 or 100 million customers instead of all 500 million, as they are not all immediate prospects. Of course, part of that will depend on what type of products we offer," Sorenson said.
Before the partnership was agreed, Marriott said it would strengthen its presence in China, and it has another 340 properties in the pipeline. The group currently operates more than 300 properties around China.
Brands such as Fairfield and Aloft, which fall into the group's target economic category, are not only locating their flagships in the country but also aggressively expanding across the nation.
The first stage of the partnership with Alibaba, however, is about technology, making sure the two platforms are well connected. All of the group's properties within China have been connected to Alipay, the mobile payment tool owned and run by Alibaba affiliate Ant Financial Services Group.
Marriott first started to incorporate Alipay in 2015, initially at 10 of its properties in Shanghai, Beijing and Hong Kong. The company expects that by the end of 2018, the wallet-free payment tool will be available at all of its more than 6,100 properties worldwide.
"It is not necessarily about boosting the payment, but more about our relationship with customers," said Sorenson about why introducing Alipay was a priority.
"We want to provide what the customers want. And we are told Chinese customers want it," he said. "We don't have much mobile device payment in the United States, while in China it's everywhere. I think it will be interesting to see how it's adopted by the other parts of the world."
According to the China National Tourism Administration, there were upwards of 122 million outbound trips in 2016. Experts estimated the figure will increase up to sixfold over the next five years.
"I think the way the Chinese tourism market is evolving means it is getting harder and harder for us to say 'this is what all Chinese want'," Sorenson said. "The needs and desires of Chinese travelers are as varied as anywhere else in the world."
"We want to do something bolder and create sort of a living relationship, which Daniel Zhang (CEO of Alibaba) described as a marriage, and something we invest in together with not only money, but also people and expertise," he noted. "I think it drives a stronger alignment between the two companies and a broader relationship that feeds the ambition of both companies."
xujunqian@chinadaily.com.cn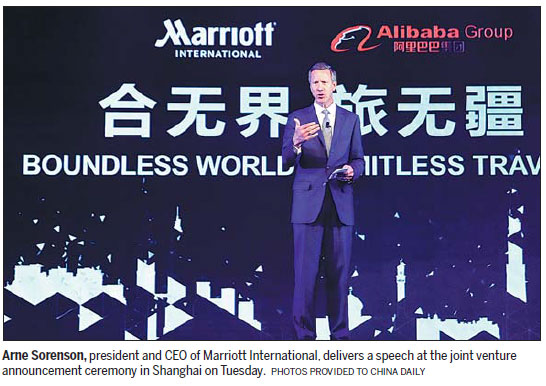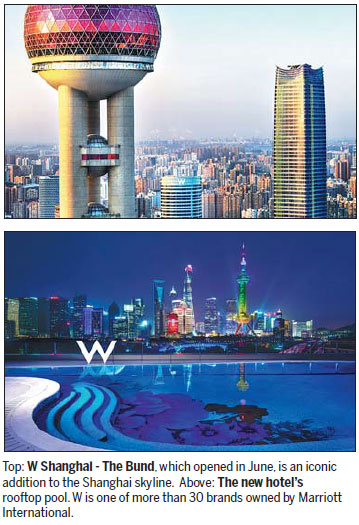 (China Daily 08/12/2017 page10)
Today's Top News
Editor's picks
Most Viewed