Typhoon Noru rakes Japan's main island
TOKYO - Typhoon Noru tore a path through Japan's main island of Honshu, despite being downgraded to a tropical storm, leaving havoc in its wake before moving in a northeasterly direction off the Sea of Japan coast on Tuesday morning, the weather agency here said.
After making landfall in western Japan the previous day, the storm packing winds of up to 108 km/h plowed across the main island of Honshu, and has left two people dead and as many as 51 people injured, according to public broadcaster NHK.
According to the Japan Meteorological Agency, the typhoon made landfall in Wakayama Prefecture on Monday and carved a path through the Kinki and Hokuriku regions before moving slowly out to sea.
The storm prompted evacuation orders or advisories affecting thousands of people and transportation networks nationwide have been severely disrupted.
In central Japan, "tens of thousands of people have been told to prepare to evacuate", NHK said.
Transportation disrupted
The typhoon has caused major disruption to transportation networks, with West Japan Railway Co canceling some of its operations between Shikoku and the Honshu main island.
More than 70 Shinkansen bullet train services have also been halted, it said.
Kansai International Airport in Osaka Prefecture said it canceled more than 120 domestic and international flights, while carriers All Nippon Airways and Japan Airlines said they have canceled more than 200 flights.
As of 7:50 am on Tuesday, the storm was estimated to be passing through Niigata Prefecture and moving north-northeast at a speed of 25 km/h, the weather agency said.
The city of Maibara in Shiga Prefecture was inundated by torrential rain and had logged in excess of 300 millimeters of rain since Monday, when the downpours started.
Landslide and flood alerts are still in place by many municipalities in the affected regions and evacuation advisories remain in place for about 106,000 people spanning eight prefectures, local media reported on Tuesday.
Noru, the Korean name for a species of deer, had been expected to brush Tokyo but veered farther north, leaving the Japanese capital untouched but for some high winds.
The storm was expected to become a tropical depression later on Tuesday and head out into the Pacific on Wednesday.
Xinhua - Afp - Reuters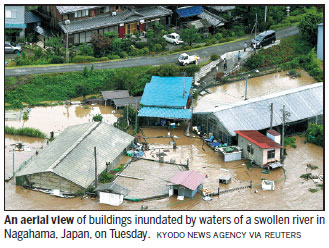 (China Daily 08/09/2017 page11)
Today's Top News
Editor's picks
Most Viewed