Professional services at auto industrial park boost firm's success
Shandong Fuxiang Powertrain, the first company to move into Shengrui Transmission's Auto Gearbox Industrial Park in June 2016, has reaped great benefits from the park's professional services over the past year.
The joint venture created by Shengrui Transmission and Shandong Futong Electric mainly focuses on transmission case and valve body production.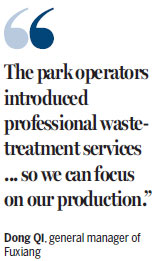 Figures provided by Fuxiang show that the company is capable of producing 150,000 sets of transmission cases and valve bodies by the end of June, about 50 percent higher than designed annual production capacity.
The management of Fuxiang said the company has enjoyed excellent and professional services in the park, which strongly supported its development over the past year.
Representatives from Fuxiang said industrial waste treatment was one of the major problems that concerned the company before it launched production in the industrial park. Professional waste treatment companies were not willing to serve it because its volume is too small, according to Fuxiang.
"The park operators introduced professional waste-treatment services and cutting equipment suppliers to us, so we can focus on our production," said Dong Qi, general manager of Fuxiang.
Strong government policy support is another key reason for Fuxiang's satisfaction with the park.
Normally, it would take a vehicle component manufacturer two to three years to build a production plant and launch operations in Weifang. However, the whole process took Fuxiang less than one year.
"The zone's government provided strong support. We were allowed to start factory construction before obtaining government approval for the project," Dong said. "We had to wait for at least one year to receive approval in previous years."
To support Shengrui's development, Fuxiang also applied high standards in production plants construction.
A constant-temperature workshop, with a 120 million yuan ($17.84 million) investment, was built by Fuxiang so as to provide high-quality vehicle components to Shengrui.
Renato Garallo, who is in charge of Shengrui's quality control and once was a quality control engineer at Italy's Fiat, was impressed by Fuxiang's constant-temperature workshop, according to Dong.
Garallo believes the workshop established a solid foundation for Shengrui to enhance its product quality, Dong said.
The industrial park was formally put into operation on July 1. Nine companies from all around China have agreed to launch operations in the park. Besides Fuxiang, Hangzhou Sanpool CNC Equipment, a machinery producer, and Wuxi Lintex Auto Parts have moved into the park. The total investment will be 3 billion yuan, according to Shengrui.
Cui Chengwang contributed to this story.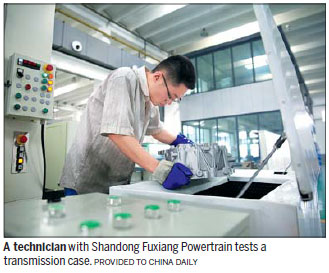 (China Daily 08/08/2017 page12)
Today's Top News
Editor's picks
Most Viewed