Carmakers up online presence to woo nation's millions of netizens
International automakers are increasingly turning to social media in China, the world's largest car market, where online networking has become part of life.
Toyota, Japan's largest carmaker, is the most recent example. On Wednesday, its president Akio Toyoda opened an account at Sina Weibo, the Chinese equivalent of Twitter, which had some 300 million active users by the end of 2016.
In his first post, accompanied by a picture of himself laughing, Toyoda said he would like to make friends with Chinese netizens.
The post drew nearly 20,000 thumbs up and more than 7,000 replies within a day, with almost 35,000 Weibo users having become his fans.
A public relations manager at Lexus China, which is currently operating the account, said: "Our president himself came up with the idea of opening this account instead of us. He would like to listen more to Chinese customers." Lexus is the premium arm of Toyota.
When it comes to collecting opinions, social media is indeed an ideal place.
In 2016, some 70 million Sina Weibo users chose cars as one of subjects they were interested in, a 126 percent rise from 2015, according to a report by Sina and Nielsen, a measurement company headquartered in the United States.
Of those users, 28 million expressed desires to buy cars and 11 million would like to change their cars.
Analysts believe the move would also help to shape a better image of Toyota among social media users and may give a boost to its already improving sales.
Its two joint ventures, FAWToyota and GAC Toyota, together sold more than 573,000 cars in the first half of the year, a 8.9 percent growth year-on-year, more than five times the average growth rate of the passenger car segment in the country.
Lexus saw its China sales surge 31 percent in the same period to 60,000 units.
Executives from German carmakers were even earlier to make the most of the digitalized part of people's life.
Nicolas Peter, a member of BMW's board of management, greeted fans and customers through BMW China's Sina Weibo account in late May when its joint venture BMW Brilliance Automotive unveiled its expanded plant in Shenyang, Liaoning province.
In the post, he expressed the automaker's respect for the Chinese market, calling it BMW's second home, and conveyed the message that the 5 Series is specially designed for Chinese customers.
Mercedess-Benz wowed people when its China sales chief Nicholas Speeks gave a live broadcast online giving his blessings at this year's Spring Festival.
The increasingly digitalized way of life in China is also prompting advertisers, including carmakers, to spend more online. Statistics from market researcher CTR shows internet-based advertisement revenue grew 18.5 percent year-on-year in 2016, while expenditure on traditional advertisement fell 6 percent in the same year.
But some experts are warning against squandering too much on digital commercials, with a statistic from Nielsen showing that 71 percent of money on them is wasted.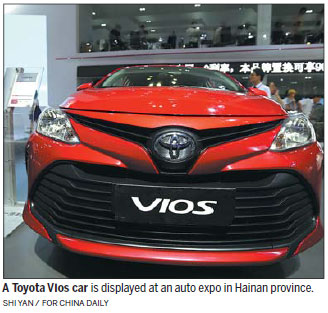 (China Daily 08/07/2017 page18)
Today's Top News
Editor's picks
Most Viewed