Venezuela's constituent assembly names interim prosecutor general
CARACAS/BRASILIA - Venezuela's newly installed National Constituent Assembly on Saturday dismissed the sitting prosecutor general Luisa Ortega Diaz, and named her successor.
In its first order of business since being sworn in on Friday, the 538-member assembly, the country's new legislative body, approved a proposal by the Supreme Court of Justice to suspend Ortega, who had become an outspoken critic of the ruling PSUV socialist party.
Venezuela's ombudsman Tarek William Saab was named "provisional prosecutor general" by unanimous decision.
Ortega, who faces trial on charges of helping fuel opposition violence, has had her assets frozen and has been barred from leaving the country.
Ortega was once a PSUV militant, but came to increasingly criticize President Nicolas Maduro and his administration.
Assembly member Diosdado Cabello, a close Maduro aide, said Ortega had not been stripped of her duties for political reasons.
"We have proposed not only that she be suspended (as the Supreme Court of Justice recommended), but that she be removed as the investigation proceeds," said Cabello.
Differences between the government and Ortega came to a head at the start of April, after the supreme court decided to temporarily take on the legislative powers of the National Assembly, or Congress.
In a bid to move past the political deadlock, Maduro in May proposed the election of a constituent assembly to draft a new constitution. The elections were held on July 30.
Meanwhile, South American trade bloc Mercosur (Southern Common Market) on Saturday voted to suspend Venezuela indefinitely for "breaching democratic order."
Foreign affairs ministers from Mercosur's four founding countries - Argentina, Brazil, Uruguay and Paraguay - issued a statement in Sao Paulo, Brazil, announcing their decision to suspend Venezuela in Mercosur. The five above-mentioned countries are the full members of Mercosur with Bolivia and Chile as associate members.
"It is a serious sanction of a political nature," designed to politically isolate the country, Brazil's Foreign Affairs Minister Aloysio Nunes told reporters at a news conference following their meeting.
The move came a day after the National Constituent Assembly was installed in Caracas to take on legislative powers in Venezuela.
Mercosur foreign ministers said the move was meant to send a message to Venezuela, which is in the mire of a deep political and economic crisis.
Venezuela's right-wing opposition boycotted the assembly election held on July 30 and accused Venezuelan President Nicolas Maduro of using it to consolidate power.
Saturday's decision marks the second time Mercosur has suspended Venezuela for alleged violations of democratic principles.
At the end of last year, the bloc suspended Venezuela on legal grounds, saying it had failed to fulfill the agreements and requirements to become a full-fledged member.
Venezuela on Saturday called the suspension baseless.
Xinhua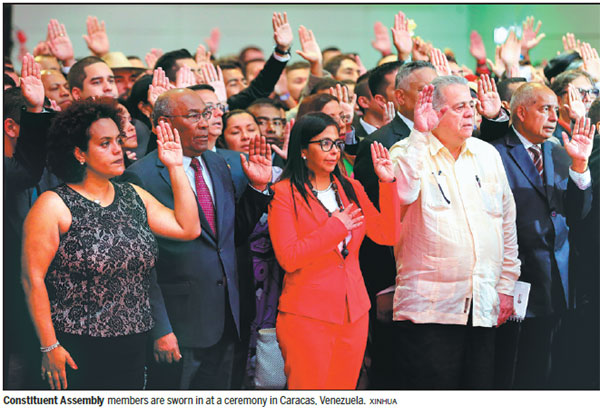 (China Daily 08/07/2017 page12)
Today's Top News
Editor's picks
Most Viewed