Tourism Australia, Didi team up to help Chinese tourists
Tourism Australia has partnered with Didi Chuxing, the leading Chinese transportation app, to design three routes for independent travelers to explore the country by car.
Travelers can find all the details they need on the international version of the Didi app's car rental section.
Tourism Australia, an Australian government agency, intends to innovate its cooperation with Chinese travel portals, social media platforms and new media to provide easier access to information and better facilitate Chinese tourists' trips to the country, officials said.
Data from the agency show Australia received a record high of more than 1.2 million Chinese tourists in 2016, with an average stay of 11 days. Overall, they spent 9 billion Australian dollars ($7.16 billion) on their trips last year, accounting for approximately 23 percent of the total expenditure in Australia by foreign tourists from around the world.
More independent tourists from China are keen to explore Australia compared with two or three years ago, creating more opportunities for local tourism in improving tourists' experience and providing services tailor-made to Chinese tourists, said John O'Sullivan, managing director at Tourism Australia.
This year has been designated the official China-Australia Year of Tourism, signaling bilateral relations have entered a new era, Xinhua News Agency quoted Australian Prime Minister Malcolm Turnbull as saying.
The number of Chinese tourists visiting Australia is forecast to surpass those from New Zealand in the next 12 months, meaning China will become the country's top target market, O'Sullivan said.
The three routes recommended to independent Chinese travelers on the road include one in Australia's southeastern coastal region.
Setting off from Sydney on their northward journey, travelers can sip wine at a vineyard in Hunter Valley Gardens, experience bohemian-style Byron Bay surrounded with tropical rainforests, go surfing on the Gold Coast and tour around Brisbane along the way.
The other two routes feature natural beauty, cultural heritage and culinary delights in other regions.
The launch of the three routes is part of Didi's greater collaboration with tourism administrations in 13 countries, as part of its launch of Global Road Trips Guides.
The book recommends three typical routes in each of the countries and provides information on transportation rules, license policies, places of interest, restaurants and hotels.
In addition to Australia, other countries involved in the initiative include the United Kingdom, Germany, Switzerland, the United States and South Africa.
Didi is seeking more overseas partners to join in and help to update the guides, according to the company.
zhuanti@chinadaily.com.cn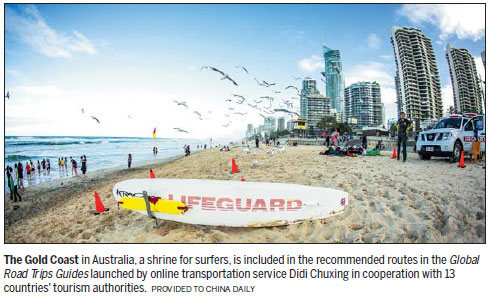 (China Daily 08/05/2017 page10)
Today's Top News
Editor's picks
Most Viewed