Prince William steps down from pilot job to be a full-time royal
LONDON - Britain's Prince William was scheduled to retire from the air ambulance service on Thursday, after two years in which he witnessed "appalling tragedies", in order to turn his full attention to royal duties.
The Duke of Cambridge, second in line to the British throne, will finish his brief career as an air ambulance pilot in the east of England with a night shift.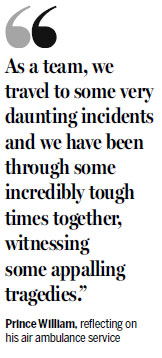 The move comes as his grandmother Queen Elizabeth II and her husband, the Duke of Edinburgh, take a step back from royal duties and leave the younger generation to take their place.

Today's Top News
Editor's picks
Most Viewed