Monorail prototype unveiled
Chinese rail car manufacturer CRRC Qingdao Sifang has unveiled a prototype of a mounted monorail train with a maximum operating speed of 70 kilometers per hour, the fastest of its kind in China.
Driven by a high-efficiency magnet motor, the experimental train runs along an overhead monorail.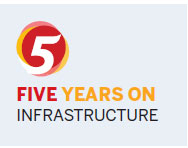 The mounted monorail train is a rising new mode of transportation featuring light weight, moderate speed and low manufacturing cost.