EU, Turkey try to defuse Qatar crisis
KUWAIT CITY - The European Union's foreign affairs chief and Turkey's president have been visiting the Gulf countries as part of the most recent international effort to heal the diplomatic rift between Qatar and a group of four nations led by Saudi Arabia.
Federica Mogherini pledged the EU's support for efforts to resolve the crisis at a meeting with Kuwaiti Foreign Minister Sabah Khaled al-Sabah on Sunday.
The crisis should be resolved through dialogue and without delay, Mogherini said in a statement released after the meeting, urging all parties to enter into negotiations to hammer out a plan for a swift resolution.
On June 5, Saudi Arabia, the United Arab Emirates, Bahrain and Egypt cut diplomatic ties with Qatar, accusing it of interfering in their internal affairs and supporting terrorism. They have also imposed an economic blockade on the country.
The four initially put forward a list of 13 demands to Qatar, demanding it close the pan-Arab TV network Al-Jazeera, downgrade diplomatic ties with Iran and stop financing extremist groups.
Qatar has rejected the demands and denied supporting extremists.
Also on Sunday, Turkish President Recep Tayyip Erdogan met with Saudi Arabia's King Salman bin Abdulaziz.
Erdogan is the fifth high-level official to try to mediate an end to the dispute. Top diplomats from the United Kingdom, France, Germany and the United States have all visited the region, underscoring the depth of concern they have over the crisis.
Erdogan's tour will also take him to Qatar and Kuwait. Turkey has publicly sided with Qatar, with which it has deep economic and security ties, while criticizing the blockade as "inhumane".
Before leaving for the region, Erdogan told reporters in Istanbul that Turkey was seeking an immediate resolution to the dispute.
"Nobody has any interest in prolonging this crisis anymore," he said.
One of the demands put forward by the four countries is the closure of a Turkish military base in Qatar. Turkey has deployed a number of troops in the base recently in a move aimed at bolstering Qatar's defiance in the face of sanctions.
Ankara has refused to withdraw the troops, a move that has frustrated the four countries.
Signs of easing
Signs of an easing of the crisis emerged after a recent visit by US Secretary of State Rex Tillerson, during which the US and Qatar signed a deal on combating terror funding.
The agreement addressed one of the key demands by the four countries, who have accused Doha of financing a number of extremist groups, including the Muslim Brotherhood in Egypt, the Hamas movement in the Gaza Strip and Hezbollah in Lebanon.
Last week, Qatar revised its law on fighting terrorism, a move that was welcomed by the UAE as a "positive step".
Qatari Emir Sheikh Tamim bin Hamad al-Thani said on Friday that his country is prepared to engage in a dialogue, provided that Doha's sovereignty is respected.
Xinhua - Ap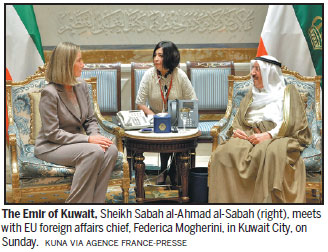 (China Daily 07/25/2017 page11)
Today's Top News
Editor's picks
Most Viewed