Trump expected to support Russia sanctions package
WASHINGTON - The White House has indicated that President Donald Trump would sign a sweeping Russia sanctions measure that requires him to get Congress' permission before lifting or easing the economic penalties against Moscow.
The House was scheduled to consider the sanctions package as early as Tuesday, and the bill could be sent to Trump before Congress breaks for the August recess. The legislation is aimed at punishing Moscow for allegedly meddling in the presidential election.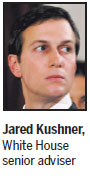 Sarah Sanders, the newly appointed White House press secretary, said on Sunday that the administration is supportive of being tough on Russia and "particularly putting these sanctions in place".
"We support where the legislation is now, and will continue to work with the House and Senate to put those tough sanctions in place on Russia until the situation in Ukraine is fully resolved," Sanders said on ABC's This Week.
Congressional Republicans and Democrats announced on Saturday that they'd settled lingering issues with the bill, which also includes stiff economic penalties against Teheran and Pyongyang. The sanctions targeting Russia, however, have drawn the most attention due to Trump's persistent push for warmer relations with President Vladimir Putin and ongoing investigations into Russia's interference in the campaign last year.
The White House had objected to a key section of the bill that would have mandated a congressional review if Trump attempted to terminate the sanctions against Moscow.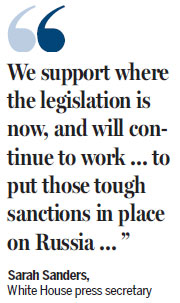 According to the bill, Trump is required to send Congress a report explaining why he wants to suspend or terminate a particular set of sanctions. Lawmakers would then have 30 days to decide whether to allow the move or reject it.
Meanwhile, Trump's son-in-law, Jared Kushner, faces two days of closed-door questioning from Congress this week as lawmakers try to determine whether Trump's campaign enlisted Russia's help to win the White House in last year's election.
Kushner, a senior White House adviser, was expected to face questions about his contacts with Russian citizens and officials when he testifies before the Senate Intelligence Committee on Monday and the House of Representatives Intelligence Committee on Tuesday.
In a statement, he said: "I did not collude, nor know of anyone else in the campaign who colluded, with any foreign government."
Trump has been dogged by allegations that his campaign aides worked with Russia during the election.
The issue has dominated Washington and divided his White House, distracting from his efforts to overhaul healthcare, restructure the tax code and rebuild the nation's crumbling infrastructure.
Moscow has denied any interference.
Ap - Reuters
(China Daily 07/25/2017 page11)
Today's Top News
Editor's picks
Most Viewed