Children's Book Expo: Authors and readers hurt by pirated work
Parents should stress copyright when selecting books for their kids because pirated books may harm their physical and mental health, experts said.
During a promotional event called Buying Licensed Children's Books Only at the third China Children's Book Expo, held from July 7 through Sunday in Beijing, publishers, kids and parents discussed the importance of copyright in kids' books.
"Pirated books tend to use cheap and inferior printing inks and paper, which may contain heavy metals," said Yan Xiaoli, editor-in-chief of Dandelion Children's Book House. "Flaws in words and color are also commonly seen."
The content of lead in some pirated books was 100 times higher than in genuine ones, according to a test report conducted by the Center for Environmental Quality Test of Tsinghua University.
Hexavalent chromium, a chemical that can be easily absorbed by human bodies through breathing and touching, was detected in many of the faked books, and longtime exposure may cause cancer, it said.
Some people print illicit copies by scanning and photocopying pages of genuine books directly, which may easily cause error in contents.
Zhang Hongbo, secretary-general of China Written Works Copyright Society, said buying genuine books not only shows respect for the authors, but also makes sure their kids wouldn't be misled by mistakes in knowledge.
The annual expo attracted about 60,000 attendees with its more than 10,000 kinds of children's books on display.
Though the category of children's books published in China reached more than 40,000 every year, ranking No 1 in the world, most of the ones selling best were introduced from foreign countries.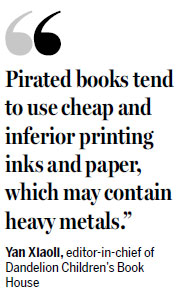 Chinese illustrators and authors need to improve their imagination, and their ability to tell stories in pictures, Yan said.
"Many foreign books succeeded because they conformed to the feelings and thoughts of children, focusing on the stories of growing up, instead of teaching lessons," she said.
Xia Han has brought his child to the expo for three consecutive years.
He said some very good stories were told in a didactic tone, which was unacceptable for them.
A picture book telling the story of a girl with big feet won the top award at the first original picture books contest in China held at the expo last year.
"Kids may lack confidence sometimes. When I was young, I was afraid of talking in front of many people. And my kid has congenital amblyopia. But we often make jokes about those things to help child become positive and confident," said Wan Wan, illustrator of the book.
She said her 4-year-old son often burst into laughter when reading the story.
Yan said the future of Chinese children's books publishing market is in original works.
"The copyright royalty for a foreign children's book may cost $30,000, which means you have to sell more than 50,000 books to break even," she said.
Yan said her company has signed contracts with three illustrators, expecting to release a new series of original picture books and novels by Zhu Dake this year.
"Some foreign copyright agencies already showed willingness to purchase copyright of the series," she said.
chenmeiling@chinadaily.com.cn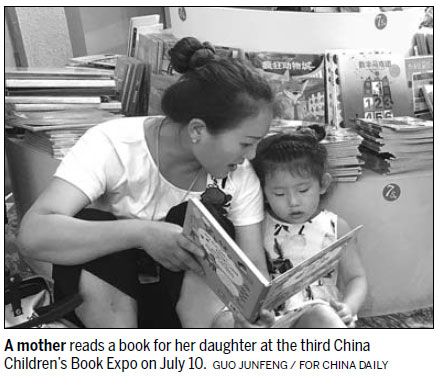 (China Daily 07/20/2017 page17)
Today's Top News
Editor's picks
Most Viewed