Bayer 'Super Interns' pursue change, gain experience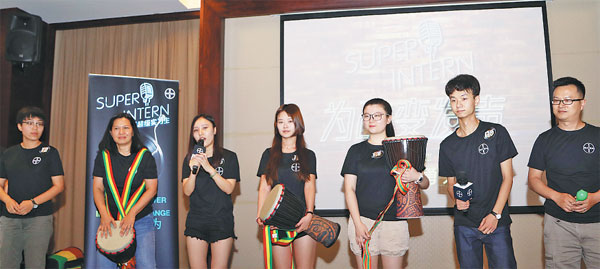 Celina Chew (second from left), president of Bayer Group Greater China, performs a musical with the 2017 Bayer Super Intern nominees on July 10. Photos Provided to China Daily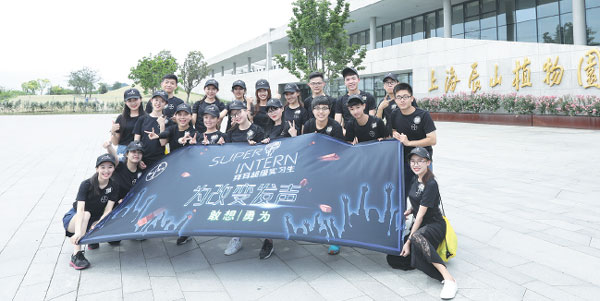 2017 Bayer Super Intern nominees participate in an outdoor competition on July 10 in Shanghai.
Bayer China's top management members have offered internships to eight Chinese university students. The selected students will participate in the 30-day 2017 Bayer Super Intern program in Bayer's Shanghai and Beijing offices between July and August.
In the upcoming month, the interns will work with Bayer China's top management members, including Celina Chew, president of Bayer Group Greater China, to learn how to think like a manager, to communicate, to manage their time and to allocate limited resources. They will also participate in Bayer China's senior management meetings to learn more about Bayer's operation and culture, according to the company.
The 2017 program - which debuted in May and was finalized on July 10 - attracted 1,065 Chinese students from 352 universities around the world, including Tongji University, the University of Electronic Science and Technology of China and Copenhagen Business School in Denmark.
The entire selection process involved three stages - online invitation and application through Tencent's WeChat platform, public online selection through video-based social platform Meipai, and a final competition witnessed by Bayer China's top management members.
Bayer said the two online activities were specially designed to test students' skills in using social media, their communication and their willingness to tr y new things. It is also a part of Bayer's digital transformation strategy, aiming to create two-way dialogue between Bayer and students.
Twenty students successfully entered the final competition on July 10.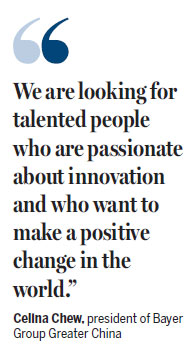 This year, Bayer continues to promote its employer brand "passion to innovate, power to change" during the selection processes. The company asked students to identify a social problem and formulate a plan to bring about possible solutions.
"It is not hard to develop the passion to innovate, but taking the first step in bringing about change is more important," said Chew. "We are looking for talented people who are passionate about innovation and who want to make a positive change in the world."
Students' plans for change covered a wide range of topics, including waste classification and environmental pollution inspection and prevention, according to the company.
Bayer has been organizing the Bayer Super Intern program for three consecutive years. More than 3,500 Chinese students have applied and participated in this program during that time.
The annual program plays an important role in helping Bayer China to convey its core values to the public.
"Bayer Super Intern is a wonderful program for Bayer to select our summer interns in a creative, fun and digital way, and to communicate Bayer's mission, "Science for a Better Life", which means that we focus on scientific innovation to find solutions that improve people's lives and society", Chew said.
Students consider this program an important platform to learn from other excellent candidates and it has improved their understanding of Bayer's culture, according to the company.
"It is a really good program that involves participants from all over the world, such as Denmark and the United States. The most important thing that absorbs me is Bayer's culture, which focuses on promoting passion to innovate and the power to change," said Guo Xubo, a student from the East China University of Political Science and Law, who will work with Grace Lee, vice-president and head of communications of Bayer Greater China, over the next 30 days.
The program, launched in 2015, not only gives students real work experience, but also brings new perspective and vitality to support Bayer's long-term commitment in China.
The company said it has advanced this internship program in China because it will bring fresh ideas and creativity, and helps the company to build a talent pool to meet future challenges. The program will also help students to better understand the company's culture and prepare for their future careers, according to the company.
tangzhihao@chinadaily.com.cn
About employer brand: 'passion to innovate, power to change'
Bayer, the German pharmaceutical and agricultural solutions provider, has been promoting its employer brand "passion to innovate, power to change" in China over the past few years, aiming to support its long-term development.
The employer brand - launched in 2014-sums up everything that characterizes Bayer as an employer: its work culture, what the company expects of its current and future employees, and what it has to offer them in return.
Bayer actively nurtures a "passion to innovate, power to change" culture among university students and young professionals. Its social media campaign, Bayer Super Intern and its campus events have attracted an increasing number of young people to support its business and innovation.
Bayer was awarded the Aon Hewitt-LinkedIn Best Employers 2016 award and collected four reputable best employer awards in China, including the Randstad Award as Best Employer in the Pharmaceutical and Chemical Industry, as well as 51job's Best Human Resource Management Company award.
(China Daily 07/17/2017 page15)
Today's Top News
Editor's picks
Most Viewed