Japan obliged to play constructive role in settling DPRK issue
Together with the United States and the Republic of Korea, Japan has been asking China to do more to "rein in" the Democratic People's Republic of Korea. The three countries hold China responsible for the growing nuclear threat the DPRK poses to them.
The three countries' top nuclear envoys met in Singapore on July 11 on the sidelines of the Northeast Asia Cooperation Dialogue and compared notes on how to put more pressure on the DPRK so as to make it abandon its nuclear program. On the sidelines of the just-concluded G20 summit in Hamburg, Germany, the three countries' leaders agreed to urge China to play a bigger role in containing the DPRK's nuclear ambitions. And Japanese Prime Minister Shinzo Abe is said to have welcomed the US sanctions on two Chinese individuals, a shipping company and a bank on suspicion of money laundering.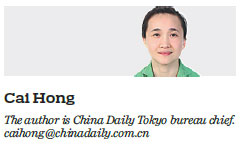 Concerted efforts of all parties are needed to address the Korean Peninsula nuclear issue. But instead joining hands with the other parties in that endeavor, the US, the ROK and Japan want to impose more sanctions and are flexing their military muscles to force the DPRK to abandon its nuclear program. The three, which are part of the Six-Party Talks, seem to be fraying at the edges owing to their different priorities.

Today's Top News
Editor's picks
Most Viewed