Trump names special counsel on 'meddling'
WASHINGTON - US President Donald Trump has named attorney Ty Cobb as an in-house "special counsel" for the White House, a statement said on Saturday.
A former federal prosecutor, Cobb is expected to handle the legal and media response to probes into an alleged Russian interference into the 2016 US presidential election and a possible collusion by the Trump campaign, a White House source was quoted by US media as saying.
Cobb is a partner at Hogan Lovells, a Washington, DC-based law firm, and a fellow of the American College of Trial Lawyers, the White House said in the statement.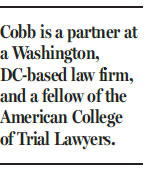 It was revealed recently that Donald Trump Jr., the eldest son of Trump, met a Russian lawyer during the 2016 campaign after being promised "damaging" information about Hilary Clinton, the Democratic presidential candidate running against his father.
To be what he called "totally transparent", Trump Jr made public a chain of emails with an intermediary about the meeting that took place on June 9, 2016, at Trump Tower in New York, but was accused of violating the Federal Election Campaign Act by conspiring to solicit a contribution from a foreign national during the campaign.
The eight-person talks reportedly involved Trump's son-in-law Jared Kushner, his then-campaign manager Paul Manafort, and a former Soviet counter-intelligence officer.
Both the former Soviet serviceman, a naturalized US citizen who lobbies for Russian interests in Washington, and the Russian lawyer, also a lobbyist, have denied links to the Russian government, while the Kremlin said it does not know the meeting nor the two lobbyists.
The US intelligence community alleged that Russia meddled in the US presidential race last year and there were connections between the Russian government and the Trump campaign.
Federal special counsel Robert Mueller and several congressional panels are investigating those allegations.
Trump's campaign paid $50,000 to the law office now representing Donald Trump Jr. a little more than a week before news surfaced of the meeting.
The payment to the Law Offices of Alan S. Futerfas, dated June 27, was disclosed in a filing with the Federal Election Commission on Saturday. It was described as covering "legal consulting" fees.
Xinhua - Reuters
(China Daily 07/17/2017 page12)
Today's Top News
Editor's picks
Most Viewed