The quiet midnight ride on the subway
It's nearly midnight on the subway, and there are plenty of seats to grab. The train buzzes along, and it's almost too quiet during the No 10 train's final loop of the night.
Say what you will about the air quality in Beijing, but the city's subway is a work of art, at least when compared with systems in other world cities. It is smooth. It is quiet. It is clean. And oh so convenient.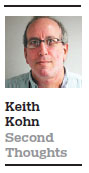 In New York, the subway system, while convenient, is noisy, bumpy and has a distinct aroma that can't adequately be described in simple, polite terms.

Today's Top News
Editor's picks
Most Viewed