Shimao, Starwood joint venture indicates market optimism
Shimao Property Holdings and Starwood Capital Group announced a new hotel management joint venture, Shanghai Shimao Star Hotel Management, in Shanghai on Tuesday.
Shimao Group initially inked a cooperation agreement with Starwood Capital Group on March 28, with Shimao Group holding a 51 percent stake in the new joint venture and Starwood Capital Group holding the remaining 49 percent.
"We plan to take full advantage of our internal strengths and establish partnerships with best-in-breed international real estate firms, like Starwood Capital Group, and establish a solid footprint in the starred hospitality markets, paving the way for Chinese hospitality brands to take their rightful place on the global stage," said Shimao Group Vice-Chairman Jason Hui at the press conference.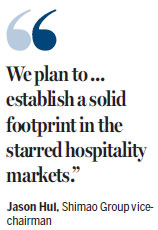 On the heels of the producer price index rebounding in September 2015, China has maintained strong economic growth over the past two years, supporting market expectations about the country's economic recovery.
PPI gauges factory-gate prices and reflects the state of corporate activities.
As domestic demand for both business and leisure travel continues to rise, domestic and international hotel operators are making inroads into the local market through mergers and acquisitions.
The establishment of Shanghai Shimao Star Hotel Management demonstrates strong interest among investors worldwide in the Chinese hospitality market and their optimism about the future of the market, according to the company.
With a focus on the development of Shimao's own hotel brands, the newly established company plans to carve out its presence in China's fast growing hospitality market by targeting the development, operation and management of hotels.
The joint venture at present has six hotel brands, including luxury five-star brands Yu Resort and Yuluxe Hotel, business hotel brand Yu Hotel, premier service apartment brand Yu Residence, high-end futuristic concept hotel brand MiniMax Premier and mid-end futuristic hotel brand MiniMax.
(China Daily 07/15/2017 page10)
Today's Top News
Editor's picks
Most Viewed