Banking on sports has proved to be a winner
Sporting spirit has been deeply embedded in the Bank of China's corporate values, said Huang Danggui, general manager of the company's corporate banking department.
Since its founding in 1912, BOC has highly valued the health of its staff. There are photos showing that there were tennis and basket courts, as well as a table tennis center, in the BOC Shanghai branch's dormitory compound in 1923. "And we still have our company's basketball team photo taken in 1946," Huang said.
Huang, who runs marathons himself, said many of the bank's employees participate in sports.
Li Shanshan, a champion gymnast during the Beijing Olympics in 2008, now works at the BOC Macao branch.
Wang Xiaolin, an information technology department manager at the bank's Yunnan office, completed the annual Tor des Geants, or the Tour of the Giants, held in Italy, on three consecutive occasions. It is considered one of the toughest cross-country races in the world,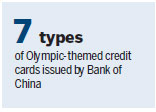 He also claimed the championship of a three-day, 246-kilometer Chinese endurance event through Taiwan in 2014.
Wang still holds the record among Chinese participants in the Western States 100-Mile Endurance Run in the United States.
"Running is the best way to release tension, which makes me relaxed and more energetic at work," he said.
Veronika Holmgren, a BOC employee in Sweden, has held the championship in an annual yachting race for four years.
The Chinese government pledged during its bid to host the 2022 Winter Olympics to enable 300 million Chinese people to participate in snow and ice sports.
"Participants in snow and ice sports have a good income and strong consumption capacity, and so they are one of our target groups," Huang said.
"There is enormous potential for developing related industries, which will bring about huge opportunities for our business clients," he said. "As the client group is growing larger and stronger, it is our turn to ofer customized financial services to meet their needs."
Since 1988, BOC has issued seven types of Olympic-themed credit cards.
In addition, the bank provided services for the Asian Games in 1990 and partnered with the 2012 Asian Beach Games and the 2013 National Games. It also sponsored a series of other events, including the 2017 Beijing International Running Festival and Beijing Half Marathon.
An active player in advancing cooperation in the sports industry, BOC helped British Columbia in Canada and Zhangjiakou, a co-host city of the 2022 Winter Olympics in Hebei province, to reach an agreement on the construction of a Sino-Canadian Winter Olympic industrial park in 2016.
The bank has also signed another deal with Invest in Finland, a government agency, for collaboration in ice and snow related industries.
(China Daily 07/14/2017 page24)
Today's Top News
Editor's picks
Most Viewed