Nature, economy already benefiting from winning bid
Two years after Zhangjiakou won its bid to co-host the 2022 Winter Olympic Games, the city in northwestern Hebei province has made marked progress in preparations and has already seen a resultant boost to the local economy.
On July 31, 2015, the International Olympic Committee announced that Zhangjiakou, along with the neighboring national capital of Beijing, will host the 2022 Winter Olympics.
Zhangjiakou will host a number of ski events, with most of the venues located in its Chongli district.
According to Zhao Zhan, chief of the Chongli district government, planning for eight venues - including five venues for competitions - has been completed earlier this year and construction of these facilities are underway.
He predicted that all the construction projects will be in place by the end of 2019.
Related infrastructure facilities, including the Beijing-Zhangjiakou High-Speed Railway, are also under construction.
According to Zhao, once the railway is operational in 2019 as scheduled, travel between Zhangjiakou and Beijing will be substantially shortened to about 50 minutes.
The improving facilities and the increasing fame of Zhangjiakou as the Winter Olympics host have given new impetus to the local economy.
In Chongli, the winter sports tourism industry started in 1996. After about 20 years' development, the district now has six nationally renowned ski resorts, with ski courses totaling 136.6 kilometers, according to Zhao.
He said Chongli welcomed more than 3 million tourists in 2016, growing about 26 percent from the previous year.
In the winter between 2015 and 2016, the district's ski resorts received about 2.5 million tourists, up 31 percent from the previous ski season.
Local authorities are also using the opportunity to improve the environment.
Wu Weidong, mayor of Zhangjiakou, promised that the air quality will meet the strict requirements of the Games, with content of PM2.5 - particulate matter of less than 2.5 micrometers - to be kept under 25 micrograms per cubic meter.
Zhao said the city will also add more than 510,000 hectares of new forests by 2018, with forest coverage reaching 50 percent of Zhangjiakou's total land area.
In Chongli, new forest area will reach 34,000 hectares, lifting its forest coverage to 67 percent, according to Zhao.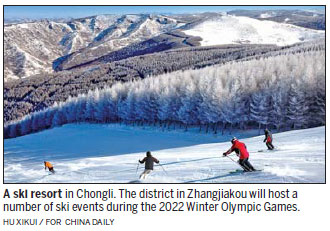 (China Daily 07/14/2017 page17)
Today's Top News
Editor's picks
Most Viewed