China, US to discuss economic issues
Xi, Trump set date for dialogue at G20 Summit in Hamburg
Senior Chinese and US government officials will meet in Washington next week for the first round of a comprehensive dialogue on economic and trade issues.
The first round of the Comprehensive Economic Dialogue will come 10 days after President Xi Jinping and US President Donald Trump met on the sidelines of the G20 Summit in Hamburg, Germany.
The dialogue will be co-chaired by Vice-Premier Wang Yang, US Treasury Secretary Steven Mnuchin and Secretary of Commerce Wilbur Ross, Foreign Ministry spokesman Geng Shuang announced on Tuesday.
In Hamburg, Xi and Trump agreed to hold the economic dialogue on July 19.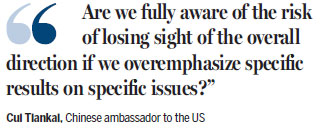 They also decided to hold the first round of law enforcement and cybersecurity dialogue, and social and people-to-people and cultural dialogues in the near future.
Xi told Trump that the 100-Day Action Plan on China-US Economic Cooperation has made important progress, and both sides are discussing carrying out a one-year cooperation plan.
"The results so far in the 100-day program to improve trade and investment appear to have been more constructive than many critics argued, and it is possible there will be further progress at the CED on July 19," said Douglas Paal, vice-president for studies at the Carnegie Endowment for International Peace.
In Beijing on Wednesday, Geng said the two sides have vigorously advanced the 100-Day action plan since the first meeting between Xi and Trump in Florida in April.
"In early May, China and the US reaped a series of early harvests. To my knowledge, at present, the two sides are conducting consultation on the follow-up outcomes of the 100-Day Action Plan with the expectation for more practical outcomes," he said.
Results-oriented ties
The US side has consistently emphasized results-oriented relationship. Cui Tiankai, Chinese ambassador to the us, has said that Beijing does not oppose the notion.
"But do we have a clear and shared understanding of what it is really about? What should we do together to achieve positive results in the interests of our long-term relations?" he said in a speech to the seventh US-China Civil Strategic Dialogue in Washington on Tuesday.
"Are we fully aware of the risk of losing sight of the overall direction if we overemphasize specific results on specific issues?"
While some in the Trump administration have criticized China's high tariff barriers, a report by Peterson Institute for International Economics last month shows that China does not have the highest tariffs among big countries.
It says that while China's weighted average applied tariff rate is 3.4 percent, higher than the 1.6 percent for the US, Germany, Italy and the UK, it is lower compared with India's 6.3 percent and Brazil's 8.3 percent.
chenweihua@chinadailyusa.com
(China Daily 07/14/2017 page11)
Today's Top News
Editor's picks
Most Viewed