Dabieshan park seeks UNESCO status
Unique geology provides global scientific significance, business opportunities for locals, Camilla Tenn reports.
Huanggang Dabieshan Geopark's application to be recognized as a UNESCO Global Geopark has hit a critical juncture, as United Nations experts will descend on the picturesque and scientifically significant area this month.
First established in 2007, the geological park in eastern Hubei province covers 2,625.54 square kilometers, encompassing the extensive Dabie Mountain range, Luotian and Yingshan counties, Macheng city and dozens of scenic spots of outstanding natural beauty. The park abounds with precious geological relics, cultural heritage sites and a vast, diverse range of animal and plant species, giving the area the name of "Central China's green pearl".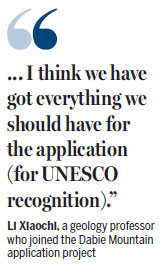 Liu Jinsong, director of the Huanggang bureau of land and resources, said the park's UNESCO application first got underway in 2015. The park and its application have benefited from considerable investment. The Huanggang government, including the park's two counties and Macheng city, altogether put in over 100 million yuan ($14.65 million). Bureau officials have visited the park many times to show their support, he added.
According to Liu, the project and investment focus on protecting the park's geological relics and intangible cultural heritage; instilling appreciation and responsibility among the local residents; helping protect the nonrenewable natural relics and improve the inhabitants' awareness of the wonders that surround them; and improving the park's infrastructure, management and tourism industry to achieve this.
Geological significance
Dabieshan Geopark's UNESCO application is based on its world-class geological heritage, according to Liu. Some of the well exposed rocks within the park date back as far as 2.8 billion years. The rich evidence this provides demonstrates the historical orogenic activity between the North China and Yangtze tectonic plates, meaning these geological relics are of major global scientific value, Liu said.
Li Xiaochi, a geology professor who has worked with other geological parks in China to successfully apply for UNESCO recognition, joined the Dabie Mountain application project in February this year. He said Huanggang Dabieshan Geopark's heritage and scenic spots are as rich as the other sites with which he has worked.
"I'm quite confident and I hope we will be successful," he said of the application.
He said that Dabie Mountain offers rare geological specimens of a unique condition rarely seen in the world, fitting UNESCO's requirements for "distinct and outstanding geoheritage".
"This geotechnical setting is quite important, including the geohistory that has left a lot of rock evidence, and this rock evidence has great significance to the global correlation. This is a UNESCO basic requirement. So, we have got these as a base, then we have our good organization, our good management and good infrastructure, so I think we have got everything we should have for the application".
Meeting requirements
While UNESCO's central requirement is distinct and outstanding geoheritage, there are also many other factors to take into consideration when establishing a UNESCO-level geopark. One requirement is clear visibility and branding. The park has created a striking logo and mascots that adorn informative panels and ornamental rock faces around the park, clearly identifying for visitors that they are within the park's uniform boundary.
Another key requirement is the involvement of the local community. Director Liu underlined the importance of improving the park's 100,000 residents' awareness and appreciation of the natural wonders, as well as enlisting their support in protecting this precious heritage.
The geopark authorities have organized many successful educational events for local schools and community groups, to popularize the park's development work and encourage residents' involvement in the projects.
Rich resources
The main way that locals have gotten involved in the park's development is through offering tourism-related services, such as restaurants, accommodation and activities. Liu said there has been a rapid increase in the area's tourism industry, expanding residents' incomes and improving the park's facilities.
There are dozens of scenic spots and cultural sights, such as the Philosopher's Peak of Tiantangzhai in the geopark's main peak area. The rock face has eroded extensively, now looking like a wise sage gazing into the heavens. Visitors must take a cable car and then walk up to the peak, earning the breathtaking views over the park with every step as they walk by thoroughly exposed granite that dates back 124 million years.
Paradise Lake, or Tiantang Lake reservoir and wetland park, is another key attraction. So named for its beauty, it is also known as the 'bright pearl' of Dabieshan Geopark. It has many functions, mainly flood protection, electricity generation and aquatic breeding. It covers 1,100 hectares with a clear, winding shoreline and many natural mountain water landscapes.
Contact the writer at camilla@chinadaily.com.cn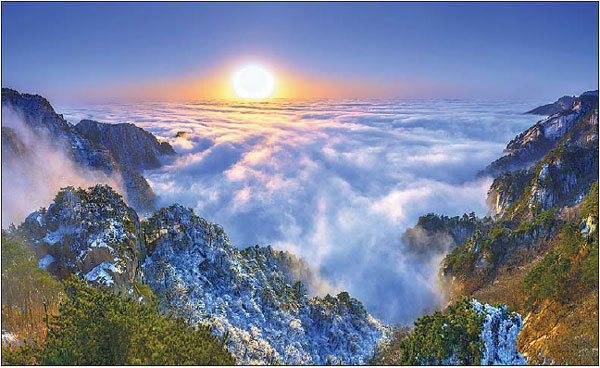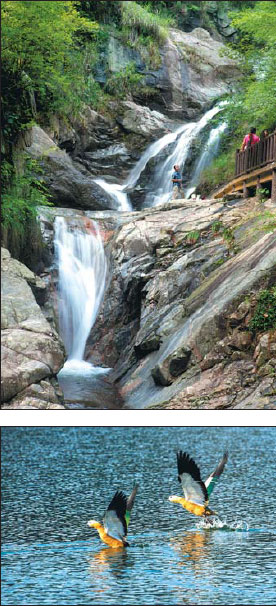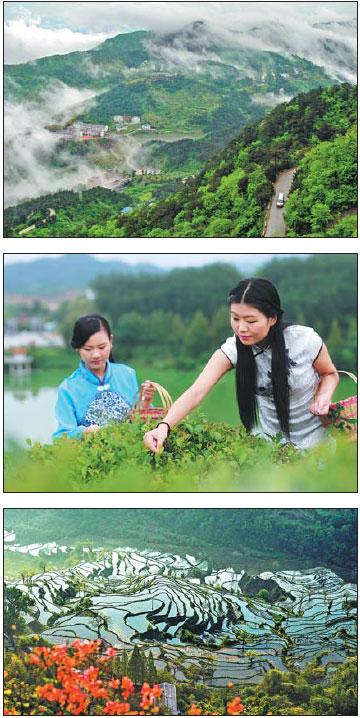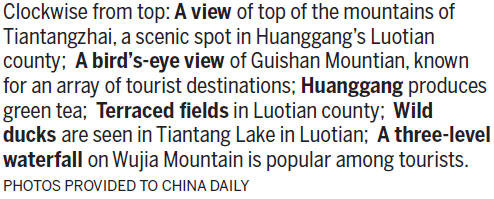 (China Daily 07/13/2017 page12)
Today's Top News
Editor's picks
Most Viewed