Thousands flee wildfires in California
OROVILLE, California - Wildfires barreled across the baking landscape of the western United States and Canada, forcing thousands of residents to flee and destroying homes.
In California, two major wildfires have forced nearly 8,000 people out of their homes.
About 4,000 people evacuated and another 7,400 were told to prepare to leave their homes as fire swept through grassy foothills in the Sierra Nevada, about 100 kilometers north of Sacramento, the California Department of Forestry and Fire Protection said on Sunday.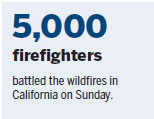 The fire has burned nearly 11 sq km, injured four firefighters and destroyed at least 10 structures, but that number is expected to rise, fire spokeswoman Mary Ann Aldrich said.
The area burning was southeast of Oroville, where spillways in the nation's tallest dam began crumbling from heavy rains this winter and led to temporary evacuation orders for 200,000 residents downstream.
"It leaves you feeling like you can't catch a break," said Sharon Reitan, who sought shelter at an evacuation center with her boyfriend Sunday night.
They were in Oroville on Friday when the fire broke out and roads to their hillside home were blocked. They later saw photographs of their home burned to the ground.
"The road that we live on was hit hard," Reitan said. "We're in shut down mode right now, it's so devastating."
The fire was 20 percent contained. It was one of 14 wildfires across the states that about 5,000 firefighters battled on Sunday.
Amayah Madere told KCBS-TV she was in the pool when a counselor told the children to get out and change in a hurry. She said they waited in a dining hall while firefighters fought the fire and the counselors sprayed down the area with water.
"I prayed that if I didn't die I would go to church, and right when I prayed the firefighters came," Madere said.
Meanwhile, as western Canada's British Columbia battled 220 wildfires scattered across the province on Sunday, officials warned that they expect greater devastation with forecasts of more hot, dry weather over the coming week.
"Looking at the medley of forecasts out there, it's certainly not optimistic," British Columbia's chief fire spokesman Kevin Skrepnek said. "We are going to be at the mercy of the weather."
Firefighters were contending with more than 200 wildfires burning in the province that had destroyed dozens of buildings, including several homes and two airport hangars. The three biggest fires had forced thousands of people to flee.
"We are just, in many ways, at the beginning of the worst part of the fire season and we watch the weather, we watch the wind, and we pray for rain," outgoing Premier Christy Clark told reporters in Kamloops.
Ap - Reuters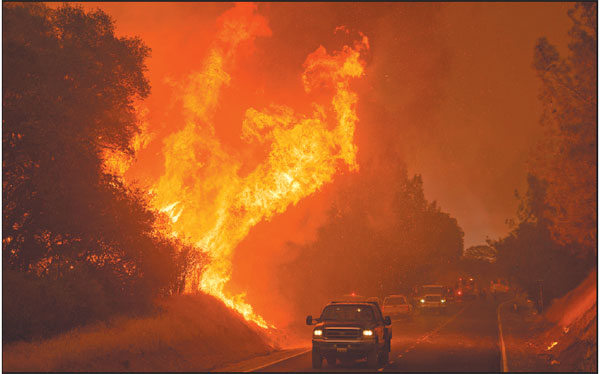 Motorists drive past flames from the "Wall Fire" along Forbestown Road in Oroville, California on Saturday. The first major wildfires after the end of California's five-year drought raged across the state.Josh Edelson / Agence Francepresse
(China Daily 07/11/2017 page12)
Today's Top News
Editor's picks
Most Viewed