Sanya-based hotelier shares his industry experience
Julian Wong, general manager of The Shanhaitian Resort Sanya, Autograph Collection and Sanya Marriott Hotel Dadonghai Bay, shares his expertise in the hotel industry with China Daily reporter Li You.
What is the essence of the Autograph Collection brand?
The Autograph Collection champions "independence". We stand for individuality and against one-size-fits-all travel experiences, providing a break from conventional chain hotel brands and championing the inherent craft and authenticity of each hotel. Each hotel under the Autograph Collection is "Exactly Like Nothing Else". Our DNA is in the brand's name itself.
For this hotel in Sanya, the key concepts are glamour and fashion, reflecting a more contemporary feel. The scenery is also stunning, and the design of this hotel is inspired by water drops, wave formation and the ocean.
The Shanhaitian Resort Sanya, Autograph Collection is the first Autograph Collection hotel in China. Why was Sanya chosen to be the brand's first location?
Sanya is the most popular and only tropical island destination in China. With almost every demographic region of China represented in Sanya and visitors being 90 percent from the Chinese mainland, it is a perfect launch pad for an exciting lifestyle brand such as Autograph Collection that is unique and exactly like nothing else.
The other main reason is that in Sanya we have many of our luxury hotels, but we were lacking one of our lifestyle brands. Therefore, as a lifestyle brand, we feel the Autograph Collection brand has a lot of potential here, and consider Sanya a very good base to launch the brand in China.
What are the defining characteristics of the hotel market in Sanya?
We are trying to showcase a very exciting, lifestyle centric brand which we think fits into the needs of the millennial mindset and those 'young at hearts'. Since our recent launch, we have received rave reviews from our guests whether it's from a design, service or food standpoint and this gives us the confidence we are on the right track.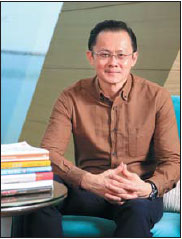 Julian Wong, general manager of The Shanhaitian Resort Sanya, Autograph Collection and Sanya Marriott Hotel Dadonghai Bay
(China Daily 07/08/2017 page10)
Today's Top News
Editor's picks
Most Viewed