Hainan Airlines climbing global ranks, providing luxurious experiences
Hainan Airlines made the top 10 airlines list published by Skytrax - a global provider of professional aviation evaluation services and a research firm with a focus on airline and airport services - announced Edward Plaisted, president of Skytrax, at a charity dinner in Paris on June 26.
It is the first time for a Chinese mainland airline to win the honor.
Regarded as the "Oscars of the aviation industry", the Top 10 Skytrax Airline designation is one of the most authoritative and coveted airline rankings globally. The composition of the list is based on the world's most comprehensive airline passenger satisfaction survey. It asks passengers to rate every aspect of an airline's products and services, in-flight entertainment and onboard food services, as well as other options and facilities.
Leading international carriers that have garnered the Top 10 Skytrax Airlines designation include Qatar Airways, Singapore Airlines, All Nippon Airways and Emirates.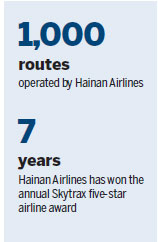 Hainan Airlines' success is not only recognition of the airline's past efforts but also encouragement for its future development.
Now in its 24th year, Hainan Airlines said that it will never lose the childlike innocence that allows the airline to remain so appealing to travelers, while continuing to improve its products and services both on the ground and in the air, providing passengers with the best-in-flight experience.
The vision of creating an international brand has always been a core part in the development of Hainan Airlines, and provided the foundation for bringing the brand fully in line with international standards, by learning from the industry's global leaders.
The award is the result of its tireless efforts, dedication to innovation and pursuit of universal values, which have helped it to become a successful international airline, according to the company.
Since its first route opened between Haikou and Beijing, Hainan Airlines has launched more than 1,000 domestic and international routes. Looking back on the 24-year journey, the airline has evolved from a small Hainan Island-based regional carrier to a diversified service provider with a global footprint.
Facing the increasingly intensified competition from international carriers, Hainan Airlines has adopted a forward-looking strategy in each phase of its development.
Since China's launch of the Belt and Road Initiative in 2015, Hainan Airlines has opened 65 international routes connecting countries involved in the initiative. It has integrated its unique East Asian hospitality into each growth opportunity by building an air bridge comprising interconnected routes that carry passengers to all corners of the globe and by upgrading services to make a contribution to the success of the initiative.
In the process of global expansion, Hainan Airlines has faced challenges due to differences in aviation industry management styles and practices between China and other countries when building their international team, including crew members with international perspectives and competencies.
The airline has brought on board more than 320 overseas employees, from 28 countries and regions including Canada, France, Italy, Japan, Romania, Russia and South Korea. It plans to recruit more international flight attendants with hiring campaigns scheduled in France and Spain in July and August, in a move to create a highly-talented, multicultural cabin crew team, one that can provide quality services to travelers worldwide.
Hainan Airlines has won the Skytrax five-star airline award seven years since 2011.
In line with its global development strategy, the company has continuously enhanced its core competitiveness by combining its unique Chinese hospitality with modern service standards.
It currently has the world's largest fleet of Boeing 787s on China-United States air routes, and continues to move forward with its global strategy by expanding its airline networks in both the Chinese and international markets.
Safety lies at the heart of aviation services, and is one of Hainan Airlines' eternal commitments. The airline was ranked No 3 on the Jet Airliner Crash Data Evaluation Centre's 2016 list of the World's Safest Airlines. This ranking is the best ever achieved by a Chinese mainland carrier.
Hainan Airlines has been, and remains, committed to improving the air travel experience for passengers while ensuring aviation safety. It has carried out a series of upgrades in products and services, including the roll-out of the Boeing 787-9 aircraft, equipped with in-flight WiFi and upgraded business class cabins with a reverse herringbone seat layout.
It has also partnered with Michelin-starred chefs to create an exclusive menu for its Hai Chef service, providing passengers with high-quality in-flight food and travel experiences.
For ground services, renowned Hong Kong designer Patrick Leung, at the invitation of the airline, has designed its international VIP lounge, the HNA Club. The unique, natural and fresh design of the lounge showcases the airline's ongoing commitment to providing its passengers with the highest-quality services possible.
Hainan Airlines has never failed in providing passengers with a better visual experience as part of the commitment to continuously strengthen the brand.
The "Dream Series" Kung Fu Panda-themed plane designed in collaboration with US animation studio DreamWorks has won countless fans for its eye-catching makeover. The unique HNA Club looks and feels like such an oasis in the busy city that travelers find it hard to leave when the flight boarding call is made. The end-to-end luxury experience is becoming part of Hainan Airlines' service philosophy.
In 2010, Hainan Airlines' fourth-generation gray-color uniform made its first public appearance when it was donned by famous actress Shu Qi in the comedy film If You Are the One II, kicking of the airline's global strategy of visual design.
This year, with equal emphasis on projecting an image of strength and providing a visual feast for its passengers, Hainan Airlines will partner with world-renowned haute couture designer Laurence Xu to design the fifth-generation uniform. It will be showcased in the finale of this year's Paris Haute Couture Fashion Week, making it the first Chinese airline to participate in an international fashion week event.
zhuanti@chinadaily.com.cn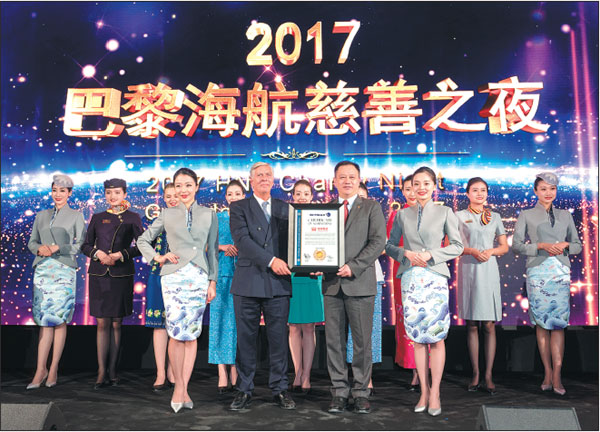 Skytrax President Edward Plaisted s (center left) issues the Top 10 Airlines certificate to Hainan Airlines President Sun Jianfeng on June 26.Provided To China Daily
(China Daily 06/29/2017 page12)
Today's Top News
Editor's picks
Most Viewed