Technology holds key to commercialization and inheriting of craft
The stories and folk customs of Chengdu are deeply rooted in the city's intangible cultural heritages, which are core parts of its temperament.
Intangible cultural heritage inheritors in Chengdu are now innovating to vitalize the historical legacy and boost the city's cultural development.
At the sixth International Festival of the Intangible Cultural Heritage's branch venue in the Chengdu Hi-Tech Industrial Development Zone, two Sichuan embroidery works drew attention from both Chinese and foreign tourists.
Zhong Ming, a related representative, said the pieces, different from other Sichuan embroidery, combine Sichuan brocade and embroidery using artificial intelligence technology.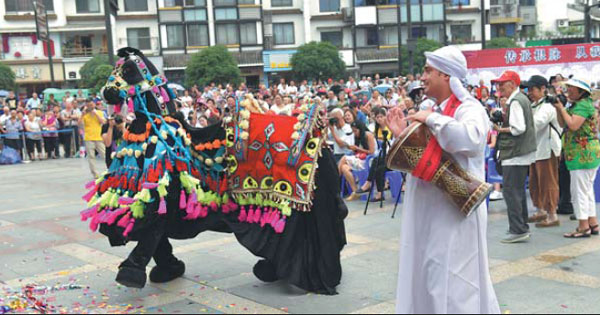 Performers from around the world present a traditional folk show at a local community of Chengdu.
The panda figures on the pieces have bright eyes and their fur can be clearly seen. Zhong said that traditional Sichuan brocade is made according to pictures drawn by painters while the displayed works' brocade was made by machines based on digital pictures. The works' embroidered parts were still done by hand.
Zhong said it is necessary to inherit traditions while also innovating techniques.
It will soon be possible for customers to submit pictures taken with their phones, and then browse different designs based on those pictures. Finally, the customer will receive a piece of embroidery featuring their photo and design choice, Zhong said, adding that in this way, Sichuan brocade and embroidery can spread worldwide.
There are 134 intangible heritage items in Chengdu that have been included in governmental lists of representative items for protection.
The city has organized events for intangible heritage publicity, inheritance education and practice in communities.
Chengdu houses 71 intangible heritage items involving traditional fine arts, craftsmanship and medicine, with the total annual output value exceeding 20 billion yuan ($2.93 billion). Ten of them, including Sichuan embroidery, have annual output value surpassing 100 million yuan individually, creating more than 60,000 jobs.
Bamboo weaving is connected to dustpans and basket carriers in many people's eyes, but if they visit a bamboo art shop in Daoming town in Chongzhou, Chengdu, they would find bamboo can not only be woven into farm tools, but also fashionable articles for daily use and artwork. The shop was founded by Ding Chunmei and her father Ding Zhiyun, a noted bamboo weaving inheritor in Daoming town.
Ding Chunmei, who was born in the 1980s, said that Daoming bamboo weaving had once declined due to a rapid influx of new materials and products.
"We realized that, if we want to pass on and promote the bamboo-related technique, we need to innovate and integrate modern life into it," she said.
"Innovation cannot be separated from the market and the market's need decides the orientation of product innovation," she said, adding that before establishing the bamboo shop, she surveyed the market to know what kind of bamboo weaving products customers need and offered them customized products.
Ding Chunmei said customers' diverse demands may make them seem picky, but help her to widen her field of vision. At last, she worked out an innovative way for Daoming to continue weaving bamboo.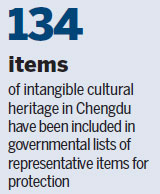 Learning from professional designers allows intangible cultural heritage inheritors to broaden their horizons.
Ding Chunmei's shop cooperated with the home product department at the China Central Academy of Fine Arts, providing students with a research and internship center focusing on traditional bamboo weaving.
Teachers and students would propose thoughts from the art perspective, offering inspiration and vision for product innovation at Ding Chunmei's shop.
Ding Chunmei has engaged in advanced studies in the fine arts academy in Beijing every year and professors have allowed her to audit classes, lectures and forums. During her studies, she would communicate with people from the artistic and cultural circles of Beijing.
"Studying in the academy, I received vast information and engaged in diverse brainstorms everyday, which broadened my horizons and enabled me to think about development of Daoming's bamboo weaving at a higher level," she said.
Daoming town is home to one bamboo weaving association, two professional cooperatives and more than 300 craftsmen.
It has also inspired other regions in Chengdu to have bamboo weaving industrial areas and the Chongzhou area offers more than 5,000 related jobs.
songmengxing@chinadaily.com.cn
(China Daily 06/28/2017 page24)
Today's Top News
Editor's picks
Most Viewed