City home to rising number of market leaders
A rising number of companies engaged in artificial intelligence, biological medicine and next-generation information technology have emerged in Guangzhou, the capital of Guangdong province, over the years, giving the city an important force driving the local economy.
Shenzhen-listed Iflytek is a software enterprise dedicated to the research of intelligent speech and language technologies, software and chip product development, speech information services and integration of online government systems.
The intelligent speech technology, a core part of the company, comprises mainly speech synthesis and speech recognition, aiming to enable human-to-machine speech communication as convenient as human-to-human communication.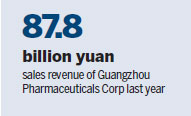 The technology also includes oral language evaluation, speech coding, timbre transformation, noise reduction and speech enhancement, which have great application prospects.
As the mobile internet enters a more vocal era, Iflytech has launched a voice cloud platform, the world's first of its kind, providing intelligent speech interaction capabilities over the mobile internet.
As one of the rising companies in the artificial intelligence industry, Iflytek will give priority to the research and development of original and innovative AI technologies, according to the company.
Another is Guangzhou Pharmaceuticals Corp, with a trendy take on traditional Chinese medicine.
The Guangzhou-based company has been striving to make TCM more internationalized, modernized and popular in a scientific way.
Annual sales of the company's labeled Wanglaoji, a botanical beverage famous for its red pop can and golden logo and favored by Chinese consumers, have reached 20 billion yuan ($2.93 billion). It ranks first in the global botanical beverage market, on account of its massive global sales network, which covers more than 6 million outlets in some 60 countries and regions.
The company has been moving up the global value chain by reaching consensus in the health industry with renowned international enterprises and institutions, such as Siemens, Time Medical Systems and Teva Pharmaceutical Industries.
The corporation's sales revenue was 87.8 billion yuan in 2016 and is expected to reach 100 billion yuan in 2017. Launched by China's internet giant Tencent Inc in 2011, WeChat has become the country's most popular social media tool.
It now has an incredible base of 900 million-plus regular users.
It has become one of the largest standalone messaging apps by monthly active users, with over 938 million active users as of May of this year, a year-on-year increase of 23 percent. With integration of various instant services including messaging, official accounts, moments, payment, city and enterprise services, news and searches, WeChat has now become an all-in-one application for users.
qiuquanlin@chinadaily.com.cn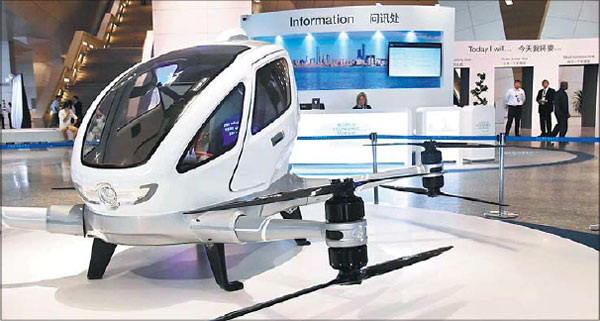 Guangzhou-based innovation enterprise Ehang's passenger-carrying drone is on display at the Summer Davos event in Dalian, Liaoning province.
(China Daily 06/28/2017 page10)
Today's Top News
Editor's picks
Most Viewed