Beijing's energy enterprises are making more progress in clean renewable energy amid Beijing's supply-side reform in energy restructuring and environmental protection.
BOE Smart Energy, a wholly-owned subsidiary of Chinese display device giant BOE, was founded in August 2009. Its business specializes in providing innovative models of production and energy-saving equipment, as well as solar power solutions.
The company's operating photovoltaic power stations' volume totals 300 megawatts, with an average annual power output of 330 million kilowatt hours. In 2020, the capacity of their power plants is expected to reach 4,000 mW.
"In the past six years, the production capacity of our parent company BOE has increased 20-fold, but its energy consumption has only increased six times, which shows our efforts in energy conservation," said Song Hangbin, general manager of BOE Smart Energy.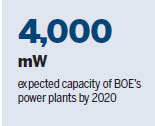 Several years ago, Chinese villagers were not familiar with the concept of new energy. But now, it is common to see the photovoltaic panels on their roofs and many households in North China use solar energy to heat their water, according to Song.
The Chinese government is designing more beneficial policies and new energy funds to support the development of clean energy.
BOE Smart Energy has more than 30 patents in renewable energy. For the next step, it will invest more in the research and development of building smart energy storage and carbon trading models.
Beyond solar energy, renewable energy sources also include wind, rain, tides, waves and geothermal heat.
Xinjiang Goldwind Science& Technology Co Ltd, one of China's earliest wind power equipment manufacturing enterprises, has today evolved into a comprehensive wind power solutions provider.
It was established in 1998 in the Xinjiang Uygur autonomous region and launched a subsidiary in Beijing in 2005.
The company owns independent intellectual property rights over the 1.5-6.7 mW permanent magnet direct drive wind turbines, featuring high efficiency and low maintenance and operating costs.
According to the 13th Five-Year Plan (2016-20) for wind power development, the total cumulative installed electricity generation capacity from wind power is required to reach 210 million kW by 2020, and the price of electricity generated by wind and coal should be equal.
"In the future, wind power will be the main supply for increasing power demand. In the face of such price trends, we will pay more attention to innovative management and optimization to improve the overall economic benefits of wind power and reduce costs," said Ma Jinru, vice-president of the company.
In 2016, the consumption of all renewable energy power, including hydropower, amounted to 1.51 trillion kWh nationwide, accounting for 25.4 percent of the total electricity consumption, an increase of 0.9 of a percentage point year-on-year, according to the National Energy Administration.
In the same year, Beijing's renewable energy power consumption is 10.7 billion kWh, accounting for 10.5 percent of the city's total electricity consumption, increasing 2 percentage points.
In recent years, China's renewable energy technology has made prominent progress, lowering costs significantly. But the subsidies in renewable energy from the government are still necessary in the short term, according to Li Yangzhe, deputy director of the National Energy Administration.
"However, renewable energy technology has great potential in innovation. If we could effectively solve the problem of improving consumption of renewable power, with all of society making efforts, we would be more likely to achieve the goal of wind and coal producing power at the same cost," said Li.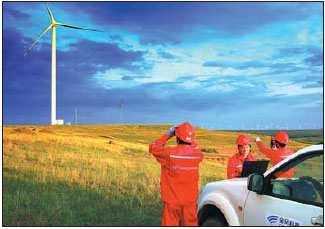 Goldwind Engineers inspect equipment at a wind field.Provided To China Daily
(China Daily 06/23/2017 page12)