Former anti-graft official investigated
Qu Shuhui, 62, a former senior anti-graft official, has been demoted on suspicion of corruption and violation of the code of conduct of the Communist Party of China.
The Central Commission for Discipline Inspection issued a statement on its website on Tuesday saying that Qu - who was the disciplinary chief of the State Ethnic Affairs Commission of China - had seriously violated the Party's code of conduct. The case has been filed for investigation.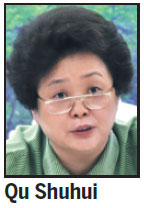 When Qu was the disciplinary chief of the Ministry of Civil Affairs, she was guilty of poor supervision and dereliction of duty for failing to find the large-scale corruption that occurred there, according to a statement from the commission. It said that she also abused her power to seek illegal gains from projects under the management of the ministry.

Today's Top News
Editor's picks
Most Viewed