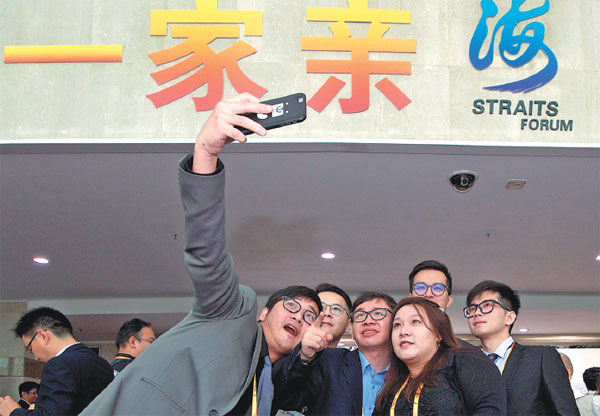 Several participants from Taiwan pose for a photo in front of the venue hosting the ongoing Straits Forum in Xiamen, Fujian province. Jiang Kehong / Xinhua
The ongoing Straits Forum provides more than 2,600 jobs, 600 internships and about 3,100 startup opportunities for young people from Taiwan, according to officials. The annual forum, as the biggest cross-Straits communication event targeting grassroots groups since 2009, has welcomed about 8,000 attendees from the mainland and Taiwan, said Zhong Zhigang, deputy director of the Taiwan Affairs Office of East China's Fujian province.
Sub-forums and other activities - such as innovation and entrepreneurship competitions, a leadership camp and recruitment fairs - were held during the forum to attract more young people. Fujian, as the closest province to Taiwan, had attracted more than 9,000 young people to travel across the Taiwan Straits by April. Of them, 2,197 have started their own businesses in the 56 entrepreneurship bases across the province, Zhong said.
Preferential policies include housing allowances, lower loan interest and special awards to companies that hire Taiwan residents, according to an official document released in 2015.
Cheng Wei-hsun, a young man from Taiwan, who launched a financial project in Fujian in 2015, said young people from Taiwan can learn more from market competition on the mainland.
"The idea of being satisfied with what you already have is no longer suitable for the further development of the youth in Taiwan," he said.
Cheng Po-yu is a director of the Hong Kong, Macao, Taiwan and international business department of Beijing Vstartup, a business incubator that established a service platform for budding Taiwan entrepreneurs. He said young people should think further about the future development and planning of their lives.
"I recommend Taiwan entrepreneurs to visit the mainland more," he said. "They need to learn about the market through their own experience or try to find an internship before starting up their own business," he said.
Ye Hailin, an international relations expert from the Chinese Academy of Social Sciences, said the common concerns and pressures, such as housing problems, can bring young people together.
The State Council approved Fujian's plan to construct the China (Fujian) Pilot Free Trade Zone in 2014 to boost economic cooperation with Taiwan.
You Quan, Party chief of Fujian, said at the opening ceremony of the forum on Sunday that local authorities will continue to deepen cross-Straits communication in terms of capital and human resources.
The provincial government will roll out more favorable policies to encourage Taiwan residents, especially young professionals, to find jobs or start businesses in Fujian, he said.
About 1,200 politicians, businesspeople and local residents participated in the ceremony, 800 of them from Taiwan.
Lee Shih-wei, vice-chairman at a major Chinese tea corporation Tenfu, came to Zhangzhou, Fujian province in 1993 to seek new business opportunities when faced with difficulties in Taiwan. He said at the ceremony that his company has received significant support from the local government over the past 20 years.
"The Zhangzhou government helped us a lot in land usage, planning, design and brand promotion," he added.
Kao Ping-han, an 82-year-old veteran from Taiwan, shared his stories of returning home and seeking his roots at the ceremony.
Over the past 30 years, Gao, born in East China's Shandong province, brought back to the mainland the ashes of 200 mainland-born veterans that had passed away in Taiwan. "In 1948, those soldiers held my hands and took me to Taiwan. Now, I have honored my promises to bring them back," he said.
Last year, Gao took four of his granddaughters, the youngest of whom was 10, to his hometown in Shandong province.
"I want to let them know where their roots are," he said.
chenmeiling@chinadaily.com.cn
(China Daily 06/19/2017 page12)