The breath of early summer is mixed with the humid air from the sea, the aroma of flowers and palms, the reddening sky and the rhythm of rain and wind blowing over the green mountains.
That is the moment when you wake up in the morning to the twittering of birds and chirping of crickets, open the curtains, go downstairs and walk along the mile-long sandy beach to await the day's first ray of sunshine.
If you are lucky enough to see the rainbow across the sea before sunrise, you would have witnessed the most picturesque scene at Shimei Bay, a primitive and clean beach in Wanning on the southeastern coast of Hainan province.
Consisting of two crescent-shaped gulfs, the bay stretches some 7 kilometers and is surrounded by low hills and dense forests including coconut trees, areca palms and the 4,000-year-old woods of vatica xishuangbannaensis, a critically endangered tropical tree.
With the azure sea, silver sand, untouched islands, crystal streams and marvelous stones, Shimei Bay is renowned as a natural reserve and the most beautiful untapped gulf in Hainan.
It is also where the Westin Shimei Bay Resort is located, a place with tranquility, a cozy environment, natural wonders and health benefits.
Situated between the verdant mountain forests and the warm waters of the South China Sea, the resort is a private and quiet destination for people who would like to escape from the urban hustle and bustle and pursue inner peace through a balanced travel experience.
"Recently, China's tourism market has been rising at home and abroad. More and more tourists are paying attention to healthy experiences during their travels," said Mike Fulkerson, vice-president of brand marketing for the Asia-Pacific region of the hospitality giant Marriott International, owner of Westin Hotels & Resorts.
"We are proud that Westin can help its customers to maintain their best state in their journeys through a series of healthy plans and services," Fulkerson said.
In 2014, Westin launched its well-being movement to make health a core of its brand value through projects such as transformation facilities, innovative activities, cooperation with sports brands and celebrity endorsements in different markets around the world.
Last week, the resort initiated a health program, Let's Rise in Wanning, the first of its kind in the world.
Andy Kong, director of brand and marketing for the Asia-Pacific region of Marriott International, said Westin has already helped customers to balance their work and life, and the Let's Rise program aims to encourage them to speak proudly about their best moments while traveling.
"The key to Westin's health concept lies in six factors: sleep well, eat well, feel well, work well and play well," he said. "We offer customers fun activities such as shell carving and painting, ceramic crafts, self-made chocolates and coffee and voyages.
"From jogging, yoga, sailing and fishing to organic food, fruits and vegetables, from the heavenly bed to the wooden design and white tea fragrance of the lobby, Westin not only delivers a healthy concept, but also offers detailed and tailored services in all aspects."
wangjinhui@chinadaily.com.cn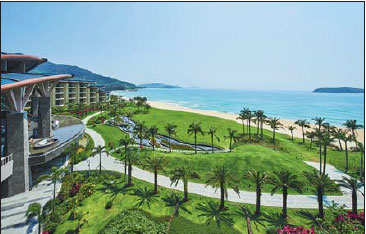 The Westin Shimei Bay Resort is situated between the forests and the waters of the South China Sea.Provided To China Daily
(China Daily 06/17/2017 page10)