The arguments and divisions that led people in the United Kingdom to vote to leave the European Union, by 52 percent to 48 in last year's referendum, look to have had a damaging effect on the nation's collective love life.
A survey conducted for the online dating service eHarmony estimates that the Brexit vote accounted for 1.6 million breakups. The figure was based on a sample of 2,000 British adults and extrapolated against the current UK population of 65 million.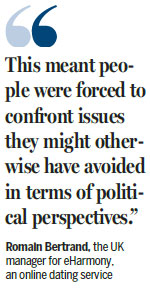 The study concluded that 2.7 million relationships foundered over politics, but Brexit was by far the largest breakup inducer.