WASHINGTON - President Donald Trump is expected to withdraw the United States from the Paris climate accord, a White House official said on Wednesday, confirming a move certain to anger allies that spent years negotiating the landmark agreement to reduce carbon emissions.
But there may be "caveats in the language" that Trump uses to announce the withdrawal, leaving open the possibility that the decision isn't final, according to the official, who insisted on anonymity in order to discuss the decision before the official announcement.
According to the Axios website, the first to break the news citing two sources with direct knowledge of the matter, Trump has reached a decision to pull out of the landmark deal on cutting global carbon emissions to curb global warming.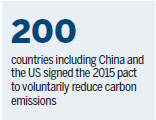 Several US media including CNN, CBS, ABC and Politico also reported that the White House was expected to announce a withdrawal from the 2015 accord once details of the process have been worked out.
The White House did not confirm the reports, while Trump, who has previously called global warming a hoax, did not confirm the decision in a post on Twitter, saying only: "I will be announcing my decision on the Paris Accord over the next few days. MAKE AMERICA GREAT AGAIN!"
Nearly 200 nations, including China and the US under President Barack Obama's administration, agreed in 2015 to voluntarily reduce their greenhouse gas emissions in an effort to combat climate change.
Withdrawing would leave only the US and Russia among the world's industrialized economies in rejecting action to combat climate change.
During Trump's overseas trip last week, European leaders pressed him to keep the US in the pact.
Trump promised during his presidential campaign to pull the US out of the deal.
What is not yet clear is whether Trump plans to initiate a formal withdrawal from the Paris accord, which under the terms of the agreement could take three years, or exit the underlying United Nations climate change treaty on which the accord was based.
Ap - Afp - Reuters
(China Daily 06/01/2017 page12)