Rice balls commemorate drowned poet
The Dragon Boat Festival, celebrated annually on the fifth day of the fifth month of the Chinese lunar calendar, commemorates the death of Qu Yuan, a patriotic poet who drowned himself in the Miluo River on the fifth day of the fifth month, when ancient Chu State was occupied by enemies in 278 BC.
For the people of Zigui county, Hubei province, which is Qu's hometown, the holiday is more important than Lunar New Year.
The most popular activity during the festival is racing dragon boats, which symbolically represent attempts made by local people to rescue and recover Qu's body. Zigui also holds races on days 13, 14, and 15 of the fifth month, and the activity is welcomed by people in South China, which abounds in lakes and rivers. Sacrifice and evocation ceremonies in memory of Qu are also held.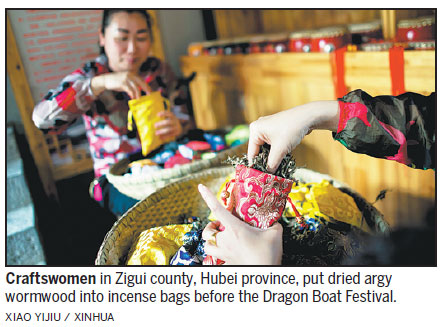 Today's Top News
Editor's picks
Most Viewed