"I can't afford to marry a Chinese girl because I'm too poor, so I intended to buy a Vietnamese bride," said a 22-year-old from Henan province, surnamed Wang, who was arrested as he attempted to select a woman near the border between Yunnan province and Vietnam.
"My parents arranged a few blind dates for me. As betrothal gifts, one girl demanded a house and car costing more than 200,000 yuan ($30,000), but I couldn't afford them," he said.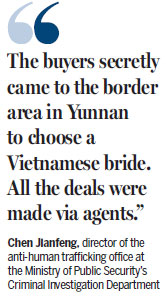 After several failures, Wang's parents became concerned and arranged for marriage brokers to visit Yunnan to help their son find a less-expensive Vietnamese wife.