The Business & Innovation Centre for China-Europe Cooperation (CCEC) formally started operation in the Chengdu Hi-Tech Industrial Development Zone in Chengdu, capital of Southwest China's Sichuan province, on May 10.
Covering about 210,000 square meters, the center has attracted investment of about 3 billion yuan ($435 million). It includes a display and transaction area for European commodities and an area for the transaction of Chinese and European technologies.
The center serves as a platform for the western part of China to cooperate with Europe in trade, investment and technology.
It is also home to a theater, a gallery for international art and a Chinese-European entrepreneur's association.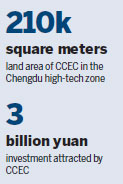 Hans Dietmar Schweisgut, European Union ambassador to China, was present at the formal opening ceremony of the Business & Innovation Centre for China-Europe Cooperation on May 10.
He hailed the center as a good platform for international cooperation.
He said he hopes that it can become a home for small and medium-sized companies from Europe, and that more of them will come to China, and Chengdu in particular.
The EU Project Innovation Center (EUPIC), which is in charge of operations at the Business & Innovation Centre for China-Europe Cooperation, has cooperated with the European Union for many years.
Thanks to the EUPIC, the business and innovation center will create more cooperation and development opportunities for small companies from China and Europe, Schweisgut said.
The EUPIC is a non-profit organization established in Chengdu in 2006 under the Asia Invest II Project, an EU initiative promoting and supporting business cooperation between the EU and Asia.
Chengdu is promoting environmentally friendly development, stressing the green growth model and technology, while companies in the EU are strong in these fields, Schweisgut said.
He said that both sides could cooperate in green energy, technology and transportation as well as sustainable urban development and environmentally friendly building materials.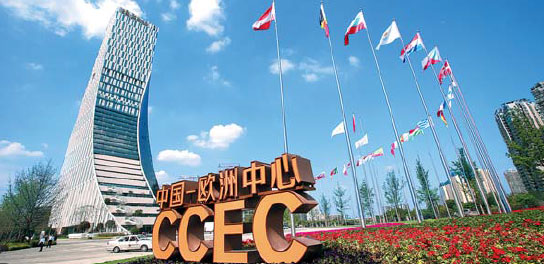 The Business & Innovation Centre for China-Europe Cooperation is located in the Chengdu Hi-Tech Industrial Development Zone. Gao Wuhui / For China Daily
(China Daily 05/23/2017 page12)