Chinese movie in running for prize at Cannes Film Festival
CANNES, France - Chinese director Li Ruijun's film Walking Past the Future drew praise during its screening at the 70th Cannes Film Festival on Saturday.
The movie, which has been nominated for the "Un Certain Regard" prize at the festival, tells the story of a family of migrant workers in China who are forced to return to their village from Shenzhen in Guangdong province after the parents lose their jobs due to aging and poor health.
However, living in the countryside in northwest China's Gansu province is not as easy as expected, especially for eldest daughter Yang Yaoting (played by Yang Zishan), who returns to Shenzhen and dreams of buying an apartment for her family.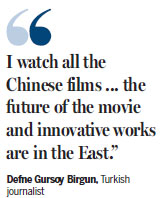 The Chinese director said he was "honored and surprised" at his nomination for the award, which is often aimed at younger filmmakers or those who tell their stories in a more nontraditional way.
For Li, the film reflects the other side of Chinese social development by telling a "family and love story", which will resonate with audiences all over the world.
After the screening, Dany Wolf, a US producer, praised the movie for being "different" and "powerful".
Turkish journalist Defne Gursoy Birgun added that the film, with its universal concerns and themes, is the most human film she has watched in recent years.
She argued that during the postindustrial era, migration from cities to the countryside represented a challenge for all countries.
"I watch all the Chinese films every year (at Cannes Film Festival). Although it is a worldwide film festival, we think the future of the movie and innovative works are in the East," said the journalist.
This year is the first time Li has taken part in Cannes, although his works have been selected in several international events. He took part in the 2014 International Festival of Tokyo with film River Road, and in 2012, Venice International Festival with Fly with the Crane.
This year, 18 films have been selected for the "Un Certain Regard" prize. The winner will be unveiled on May 27.
The 70th Cannes Film Festival runs from May 17 to 28.
Xinhua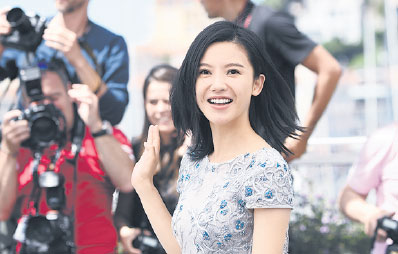 Chinese actress Yang Zishan takes part in a photocall for the film Walking Past the Future (Lu Guo Wei Lai) at the 70th edition of the Cannes Film Festival in Cannes, southern France on Sunday. Anne-Christine Poujoulat / Agence France-Presse
(China Daily 05/23/2017 page10)
Today's Top News
Editor's picks
Most Viewed